08–10 OCTOBER 2019 | NEC | BIRMINGHAM

News
Saint-Gobain Weber Exhibitor Spotlight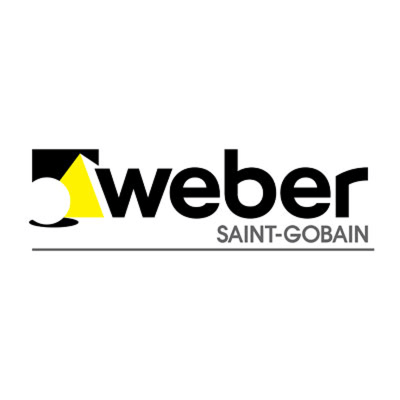 Introduce your company
Weber manufacture a full range of building, construction and renovation solutions.
We specialise in the manufacture of industrial mortar products including
Renders and Decorative Finishes
Tile Fixing Products
Flooring Systems
Technical Mortars
External Wall Insulation Systems
Based on our strong expertise of industrial mortars, we offer a complete solution including services which complement our products including technical support and training. Our training programmes meet the needs of our customers, providing specifiers, developers, and contractors with substantial support before, during and after contract periods.
Talk us through your latest innovations
In the last 12 months we have introduced a number of new products to our range… it will not surprise you that many were designed to offer time saving and ease of installation for the applicator. Time is money on site so the importance of speed of application is vital…
weberend LAC rapid is a fast drying version of the established and successful weberend LAC, a basecoat render which plays an essential role in a number of Weber insulation and render systems. The rapid drying formulation of weberend LAC rapid typically reduces drying time from 72 to 24 hours. This means our customers will be finished far quicker, reducing their time on site; offering significant savings in scaffolding and heavy equipment, collectively making valuable project efficiencies.
weberend one coat dash is a one coat render that can receive a dry dash finish without the need to apply a base coat or a second pass. Suitable for brick, block and concrete substrates, it can be applied and finished on the same day, avoiding the drying time associated with a traditional two coat system typically of three to seven days. The use of weberend one coat dash allows faster application, reduced programme periods and improved onsite efficiency.
What makes your products/services stand out from the competition?
Research and innovation are at the heart of our strategy. Our research focuses both on breakthrough innovations and on continuously improving our products, processes and services. At Weber we care about people and their environment, so we invest in research and development so we are able to guarantee efficiency, quality and competitiveness.
What projects have you been involved in that you are most proud of?
Our Case Study library is quite extensive (https://www.uk.weber/search-content/content_type/case_studies) so to pick an individual project would be quite hard… We have been involved with some quite iconic projects including the support of the Millennium Bridge and London Eye with products from our range of Precision Grouts and Concrete Repair Systems. Our External Wall Insulation was used in the Aviva Stadium in Dublin and our Flooring products at the Principality Stadium in Cardiff. Our Tile Fixing products were used on the Award Winning project at the National Museum of Scotland in Edinburgh whilst our Renders have been used to finish some beautiful homes and buildings across the UK and Ireland.
What can visitors expect to see on your stand?
We are presenting a very different look stand at UKCW, we are using this opportunity to launch a new product to the range… the whole stand will be given over to this one exciting new product including an on-stand competition and live demos, oh and there will also be a barking brick dog!! You will have to visit B292 to find out more about this exciting new development in October!
Who do you hope to meet at UKCW 2019?
We hope to meet anyone with an interest in Weber products… it could be a Tiler working on a small bathroom, to an architect specifying thousands of square metres of External Wall Insulation on a major social refurbishment scheme or even a civil engineer who is repairing a sea wall or bridge…our product range is quite diverse so we expect our visitors will be too!
What challenges does the industry face, and what can be done to counter them?
The most recent figures released by the Health and Safety Executive (HSE) for 2017/18 show that there are 12,000 lung disease deaths each year estimated to be linked to past exposure to dust and chemicals at work. After asbestos, silica dust is the biggest risk to construction workers, commonly linked to serious lung diseases including silicosis, bronchitis and emphysema. As a major component of many construction materials, this dust is generated through common construction tasks, including tiling and floor screeding.
Large volumes of dust from products has always just been accepted as part of the job, but we want to challenge that. As product manufacturers, we have a moral responsibility to be more conscious of the products that we are putting out into the industry. We can't always rely on companies and contractors to pick products based on how they impact their employees or themselves, so as manufacturers we should make the effort to reduce risk wherever possible.
This is why we have introduced Low Dust Technology™ to a number of our products in our Tiling and Flooring range. The advanced formula significantly reduces airborne dust so that contractors can work in a cleaner and more comfortable environment.
While Weber's low dust technology does reduce the amount of dust that is released into the workspace, it is not a substitute for full RPE. It is important that the correct RPE is worn and correctly fitted.
How do you see the construction industry evolving over the next decade?
According to a report by the World Economic Forum, it's estimated that more than 5.1 million jobs will be replaced by robots across all industries by the end of 2020, with half a million of them being construction jobs. Current robots are good at doing simple, repetitive tasks, which is why we're seeing things like bricklaying robots and rebar tying robots, but while they're able to work continuously and faster than human workers, they still require workers to set them up and get them started, so the more likely scenario for the immediate future, is the use of 'cobots' – machines that work alongside humans.We've seen a few automated rendering machines being touted on Social Media, but none that are convincing us!There are so many issues due to the unpredictable nature of the task and the environment.
The real force for change in the construction industry in the next decade will be MMC and its ability to speed up and simplify the building of new homes across the UK, and this is an area where our research and development team are busy investigating options.
Back to Top