08–10 OCTOBER 2019 | NEC | BIRMINGHAM

News
Product of the week: Mitsubishi Electric Ecodan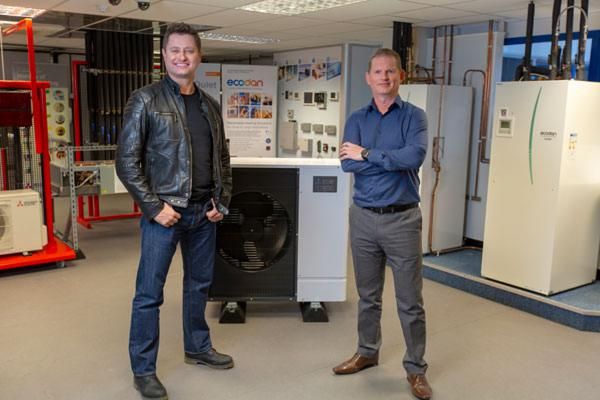 At the forefront of the UK's low-carbon heating revolution.
The UK government has recognised how important air source heat pumps will be for the future of low carbon heating with the Committee on Climate Change demanding that from 2025 no new homes should be connected to the mains gas grid. Coupled with a complete ban on gas boilers in new build homes within the next 6 years.
Despite this commitment from the Government, many people still aren't sure exactly what Air Source Heat Pumps are and are unaware of how much better they are for the environment, reducing both national carbon emissions and overall energy consumption. So what exactly is an Air Source Heat Pump? Well believe it or not you actually have something very similar in your home already. Your fridge. It uses the same basic heat pump technology to remove the heat from inside the fridge, ejecting it to the outside and keeping the food cold. A heat pump simply reverses this process, extracting heat energy from the outside air and upgrading it to provide all the heating and hot water you need.
Over a decade of UK development
Mitsubishi Electric's Ecodan range of Air Source Heat Pumps are arguably the market leaders and its latest range of ultra quiet units have just been awarded and commended in a raft of industry awards, including winning the top spot at this year's H&V News Awards for 'Domestic HVAC Product of the Year – Heating Units'. The judges focusing on Ecodan's ultra-low noise levels coupled with the attention to design and performance as key factors in its success.
Much of the reason Ecodan is such a popular product and why it continues to lead the market is down to the fact it has been developed in the UK, for UK specific conditions for over 10 years now. Whereas many other brands develop their products in factories in the far-east, Ecodan is actually designed, developed and built in Mitsubishi Electric's factory in Scotland, making it the obvious choice for UK homes. Especially when you consider The system will continue working to maximum efficiency down to -10C and will carry on working to -20C or more, so you can rely on a warm and cosy home even when there is snow on the ground.
Working with the UK Construction industry
Mitsubishi Electric is committed to working with UK developers and house builders of all sizes and has a team of industry experts geared up to be able to assist any and all queries from the house building industry. Such is this commitment that they have partnered with leading Architect and TV presenter George Clarke to better address industry needs whilst also championing innovative and renewable design. Lead by Max Halliwell, the Ecodan team will be at UK Construction week to meet with building industry professionals and answer any questions they have about the future of heating in the UK.
Learn more about Mitsubishi Electric and book a meeting with them at the show.
Back to Top