08–10 OCTOBER 2019 | NEC | BIRMINGHAM

News
Modular provider exhibits curved green roof on unique eco-building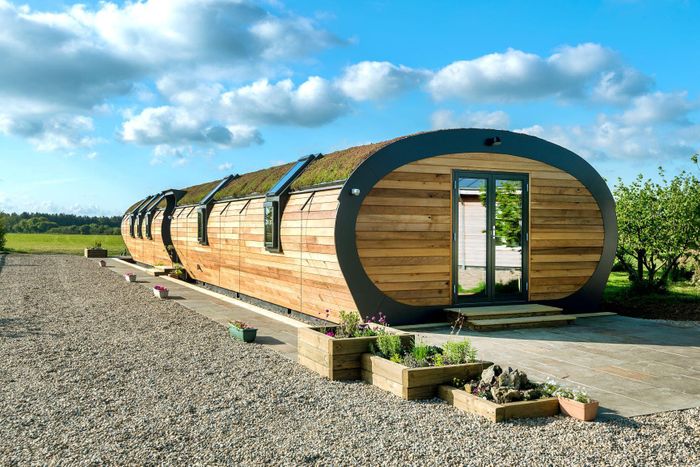 The Green Unit ARC is a high-quality eco-building that's manufactured offsite in modular sections and delivered to site virtually complete.
Modular provider showcases curved green roof on unique eco-building at UK Construction Week
Oxfordshire based Green Unit will exhibit a pod section of its modular eco-building - the ARC - at UK Construction Week 2019. Accompanying Green Unit on the stand will be two of the company's integral suppliers - experienced installers of the modular building's unique, curved green roof.
The ARC is a high-quality eco-building that's manufactured offsite in modular sections and delivered to site virtually complete.
Each ARC building is designed and built bespoke to client requirements, but the core modular design and structure remains consistent across all of Green Unit's buildings.
Unique modular solution
The ARC offers architects, developers, and project specifiers a turnkey solution that delivers the highest quality modular building that's as visually stunning as it is sustainable.
The ARC has a unique curved design, which mimics organic forms found in nature. It uses sustainable materials and processes and is high performance in terms of insulation and air tightness. The ARC also has a green sedum curved roof and uses attractive UK-sourced external cladding.
The ARC is suited for various uses in commercial, residential and community projects, proven by Green Unit's track record delivering modular eco-buildings to clients including the NHS, university estates, charities and businesses, as well as private clients.
Green Unit exhibiting alongside suppliers
Green Unit will be showcasing their ARC alongside living-roof specialists, Bridgman & Bridgman, and roofing contractors, C & P Roofing.
Bridgman & Bridgman are specialist installers of living-roofs with experience in sedum and wildflower roof installations on the ARC's curved roof.
C & P Roofing are experienced roofing contractors. They install the ARC's warrantied, green roof membrane at Green Unit's factory prior to delivery to the client's site.
Green Unit ready for scaled operations
Jonathan Finnerty, Managing Director of Green Unit, said "we're delighted to be taking the ARC to UK Construction Week this year. We've worked hard to develop our building design and our manufacturing processes since starting the company in 2012, and we're now in an excellent position to showcase the ARC within the construction industry.
"We've proven our ability to deliver into a number of sectors to date which has allowed us to invest in scaling up our production facilities.
"We're interested in speaking to professionals from the construction industry during the show. One area I'm particularly interested in is rooftop development and vertical extensions because the ARC is ideal for installing on top of flat roofs in dense, urban environments."
Visit stand T102 in the Timber Zone, or go to www.greenunit.co.uk for more information.
Back to Top