08–10 OCTOBER 2019 | NEC | BIRMINGHAM

News
iBinder Exhibitor Spotlight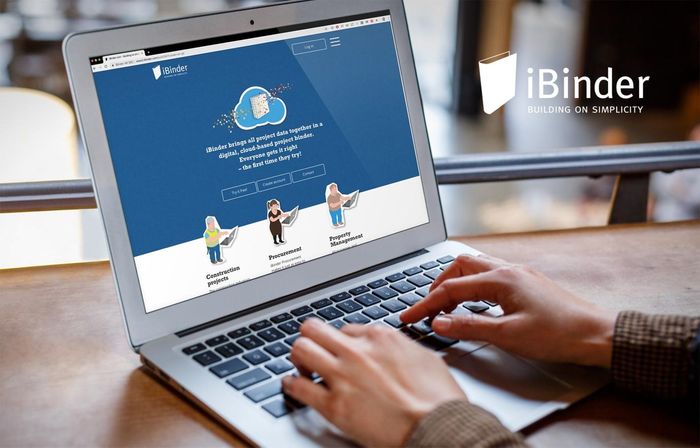 After ten successful years in Scandinavia, iBinder launched this year into the UK market.
Built in Sweden, iBinder is the secure and simple document management solution created specifically for the construction industry. It takes the familiarity of the ring binder into the cloud, letting you add all your team members so they can find, edit and add files to the project.
iBinder features:
Simple set up with minimal training needed
Easy for all stakeholders to use
Secure, with cloud-based technology
Includes training & ongoing support
Makes documents easy to find
Distributes, saves and updates at the touch of a button
Unlimited users and storage
iBinder has all the tools you need to effortlessly manage your construction project documentation, saving time and money and keeping everyone on the same page.
Talk us through your latest innovations
We recently added the ability to make changes to the content of your documents in iBinder without having to download them. Online editing saves you time and makes it easy for you to update files on the move. To avoid conflicts and confusion, only one user can edit at a time. This new feature works in any browser, all you need is an iBinder account, a professional or student Office 365 account and internet access. iBinder Online Edit supports Microsoft Word Online, Powerpoint Online and Excel Online.
We also recently launched our blog, enabling us to communicate with our users directly within the platform. This new information site is where you will find product news including updates and new releases as well as other important messages that are relevant to you.
What makes your products/services stand out from the competition?
Simplicity and familiarity - iBinder takes the familiar structure of the ring binder with clear and logical tab headings and puts it in the cloud. Managing all your documents digitally, centrally and collaboratively, with a fast, intuitive and easy to manage interface that takes no time to setup or learn.
Unlimited storage and archive space - Our pricing structure is based on the size of your project, not how many gigabytes you use. This leaves you to concentrate on your project deadlines, not how much storage you have left!
Unlimited users with no additional cost - We don't charge you for adding users to the project. You can add anyone and everyone you want with no additional cost.
What projects have you been involved in that you are most proud of?
We recently worked with Bath Spa University to help them manage the redevelopment of a Grade II listed building. The building is being transformed into a £32m Art and Design Campus. Following the purchase, the project management team subscribed to iBinder to enable their consultants to collaborate and share project information.
"We would have no hesitation in recommending iBinder as an effective data management system on a large project." Martin Crandon – Capital Projects Manager
What can visitors expect to see on your stand?
We will be running live demonstrations and the chance to take a test drive of the software.
Who do you hope to meet at UKCW 2019?

We would love to meet anyone involved in the management of documents within the construction industry. This could be a CEO who wants to standardise an in-house system or a project manager, architect or engineer who needs to keep all project documents central and everyone involved up to date and informed. If simplifying and streamlining appeals to you, then come and see us on Stand BT400.
What challenges does the industry face, and what can be done to counter them?

There seems to be a lot of uncertainty in the industry at the moment and the challenge is for companies to remain as competitive and efficient as they can whilst finding a way to stand out against the competition. Businesses are protecting their profits and failing to reinvest in ways to improve the management of projects and propel them ahead.
Research indicates that the loss of documents and errors caused due to the use of incorrect documents can alone account for an additional cost of between 5% to 15% to the project.
The construction industry has always been slow on the uptake of new technologies which have the potential to transform business productivity. Integrating better processes using new technology and software has the potential to save time, money and improve their bottom line.
If companies can improve their performance using more robust and transparent project management tools then budgets and deadlines can easily be met and costly project creep can be minimized or avoided altogether.
How do you see the construction industry evolving over the next decade?

The next decade will be an interesting one. With ever increasing sustainability goals and advancement of technology we're in for some big changes. We like to think we're doing our bit by encouraging project managers to store all their documents in the cloud and cut down on waste, both environmentally and financially.
On the tech side we're always looking at ways we can improve our software and use the latest technologies to improve our product. There are some really exciting things to come for iBinder so watch this space!
The success of future technology relies on the solution being simple to use, intuitive and cost effective. With iBinder you can find what you need, first time, every time.
Back to Top