08–10 OCTOBER 2019 | NEC | BIRMINGHAM

News
How to use Trade Shows to Power Up your Business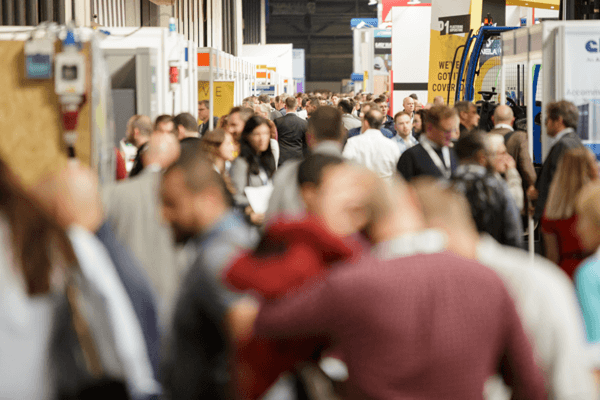 Trade shows have been an instrumental part of our success, and we wanted to take this opportunity to share with you what we've learned and how they've benefited us so that if you so wish, you may do so for your own business. Whether you're an end user, a merchant, or a manufacturer you'll definitely benefit by keeping a presence at the various trade shows that are available to attend across the UK.
What to Expect?
If you're new to trade shows and wondering what they entail, then do not fear. They are relaxed affairs where you can take as much time as you like wandering the many isles lined with exhibitor stands. It's the perfect opportunity for the exhibitors to show off their latest products so you'll definitely get to be among the first to get your hands on their latest offerings. The event organisers usually do a fantastic job of selecting the exhibitors so you'll likely find a variety different things on offer to ensure that you don't get bored. Construction Week, for example is based at the NEC and covers a huge area. They usually segment the area into different sectors, so you'll find all of the civil engineering products in one area, building materials in another, energy, HVAC, etc all in their own areas so you don't end up lost.
At some shows there will also be seminars where industry leaders will offer free training, tips, news and outlook on the industry which is a great way to boost your knowledge and prepare for any legislation or regulatory changes that are in the pipeline.
Who Should Attend?
Well pretty much anybody involved in construction will likely benefit by attending. If you are an installer for example, you'll get the chance to touch and see all of the latest products related to your trade. Also, usually the stands are manned by some of the company's top executives who will be more than happy to go through the products with you and explain to you exactly why you'll benefit by using them as well as how they work. It's also a fantastic opportunity to pick the brains of these people and learn new tips, so even if you're an apprentice it will be a great chance to learn something valuable.
If you're a merchant, you'll benefit for the exact same reasons. You'll find new products to sell and you'll also be able to network with the suppliers and lay the foundations for a solid business relationship going forward. We've hit on many deals that have began at trade shows, and much of our success has depended on it.
If you're a manufacturer or a distributor it'll be the best possible place to showcase your wares to crowds of people who'll be interested in buying and using your products. If you're looking to grow your brand and make extra sales then where better to do it other than in a sea of people who're all directly involved in your industry?
What Should I Bring With Me?
A backpack, at every stand you visit you'll no doubt be offered some freebies by the exhibitor as well as their latest literature and catalogues, so carrying a backpack or bag with you is an obvious benefit as it'll free up your hands and ensure you don't miss out on any goodies.
Comfy shoes, you'll be on your feet all day walking up and down the isles and with all the good opportunities in front of you, the last thing you'll need it sore feet.
Water, though there will likely be various stands with free coffee on offer you will no doubt want some water to drink with all the walking around you'll be doing!
Lunch, although there will be plenty of food stalls and coffee in and around the event it's probably worthwhile packing some food, just in case you need to save time as there is a lot to see.
Business cards, you'll want to carry plenty of business cards so that you can exchange them with everyone you meet to help you network easily.
An event map, these trade shows are usually very large, and an event map will make sure that you don't get lost and that you're able to efficiently cover the area so that you don't miss out on anything!
At EasyMerchant we rely on offering our customers the newest and best products, it's one of the only ways we can differentiate ourselves from our competition. Trade shows have been absolutely instrumental in allowing us to do this and we've struck plenty of deals that were born at trade shows that have gone on to be core components of our business. It usually gives you the opportunity to network with exactly the right people at the exhibiting company - who can give you details of how to set up an account and begin buying their goods. Meeting these people face to face is always a much better way of building a strong business relationship than starting a conversation up via an email with their sales office would be, being able to put a face to a name is genuinely priceless from a business point of view.
So whether you're an end user, a merchant, a distributor or a manufacturer you will most definitely benefit by visiting trade shows such as Construction Week. You'll also likely have a lot of fun in the process and meet new friends and business partners going forward. You'll also be able to impress when you're back in the work place with your new found industry knowledge!
Back to Top