08–10 OCTOBER 2019 | NEC | BIRMINGHAM

News
Good bye sci-fi, the digital future of engineering is here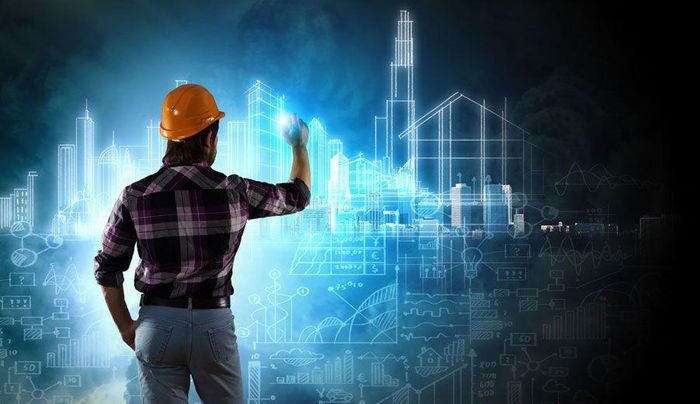 Ahead of his talk at UK Construction Week, Dr Andrew Harris, Director of Laing O'Rourke's Technical Future & Engineering Excellence Group, explains how digital fabrication and automation are causing global disruption to the construction industry.
Much like Zollinger's iconic silhouette of human evolution, we are almost at a stage where we can arrange a sequence of images which show the chronological development of our tools of trade from rulers and calculators to today's sophisticated digital environments and technologies.
As the Director of Laing O'Rourke's engineering and innovation enterprise in Australia, the Engineering Excellence Group ('EnEx.G'), my number one objective is to support Laing O'Rourke in becoming the leader for innovation and excellence in the construction industry. The challenge of my role is to not only remain abreast of leaps in innovation, but to pioneer them too - needless to say, it's not an easy feat.
Since starting my role at Laing O'Rourke in 2011, I have overseen the research and development of innovations that differentiate Laing O'Rourke and provide a competitive edge in the Australian market, from exoskeletons with superhuman strength to the application of autonomous vehicles in the construction industry.
Laing O'Rourke's bespoke digital engineering models provide insight to where the digital future of construction is heading. The models offer far more than the common 3D fly-throughs - they are true-to-life and built from inputting the real size, dimensions and materials used to build the relevant infrastructure.
As a result, these models expedite the design and approval process, allow commercial and logistics teams to accurately procure the required materials to build the job, and create opportunities to optimise delivery approaches and interfaces with other work sites or stakeholders.
On Laing O'Rourke's recent expansion of Brisbane International Airport terminal, the purpose-built digital engineering model enabled the project team to design, pre-fabricate, and erect two 55 metre bridges with dimensional accuracy and critical deflection allowances. Laing O'Rourke's consultant and sub-contractors also used the model - reducing 80 percent of planned site welding works at height.
We were also able to convert these digital models into live augmented reality environments. There is no better way to build understanding and patience with residents, businesses and community groups by putting them right into the centre of a virtual universe where they can look, walk and feel their way around your construction site and then see the completed project.
Like most other industries, robotics and data analytics are also driving efficiency in the construction industry. Some of our major successes in this sphere include a sophisticated Artificial Intelligence tool called the Toolbox Spotter, which reduces the risk of plant/machine operators hitting objects or other workers through advanced 360 degree view hazard detection technology.
With all this said, there's no doubt we are about to venture into an exciting decade of engineering innovation. We will be building projects we once thought were impossible, with tools and technologies once unimaginable.
Join Andrew at UK Construction Week on Tuesday 09 October for his talk on The Digital Future of Construction.
Dr Andrew Harris webAndrew Harris is an expert in disruptive innovation, with deep experience of most of the technologies likely to impact all industry sectors in the future, including IoT, robotics and automation, big data, digital, augmented and virtual reality, biomimetics, smart cities and AI.
Back to Top