08–10 OCTOBER 2019 | NEC | BIRMINGHAM

News
THE FIRST 100% RECYCLED ALUMINIUM BUILDING SYSTEMS – MADE USING HYDRO CIRCAL 100R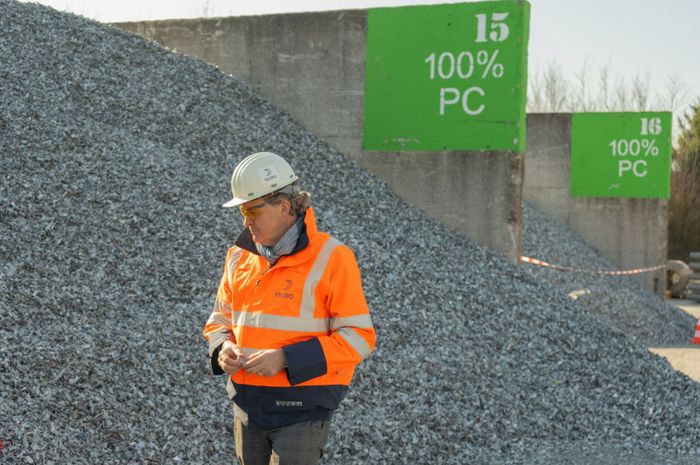 Accelerating their commitment to sustainable development, TECHNAL part of Hydro, has become the first aluminium building system companies to manufacture door, window and curtain walling profiles from 100% recycled aluminium - Hydro CIRCAL 100R. The new recycled material is produced from 100% post-consumer aluminium. This means it is possible to specify profiles with a near-zero carbon footprint (0.5kg of CO2e/kg of aluminium on average) - the lowest in the world.
Exclusive to TECHNAL, Hydro CIRCAL 100R exemplifies the brands' innovative spirit and commitment to anticipating specifier needs - going beyond regulations and playing a leading role in the decarbonisation of tomorrow's buildings.
Strong support for TECHNAL from owner Hydro
The Norwegian aluminium group Hydro is currently the only producer in the world that able to supply this recycled aluminium with a near-zero carbon footprint.
The group has established its own recycling channel. Its Dormagen plant in Germany harvests aluminium from windows and façades during the deconstruction of end-of-life buildings. This is crushed and separated from any foreign and non-metallic materials, before the aluminium is shredded into small segments. These 'aluminium chips' are then sent to Hydro's plant in Clervaux, Luxembourg where they are manufactured into low-carbon billets – Hydro CIRCAL 100R and 75R.
New technology allows the right alloy to be identified precisely, which supports the production of this construction-quality 100% recycled aluminium, avoiding the addition of any primary aluminium.
This innovative step forward, and the key to its success, has been developed using the knowledge gained from the production of Hydro CIRCAL 75R - an aluminium that contains a minimum of 75% recycled post-consumer scrap, available since 2019.
The TECHNAL extrusion plant in Toulouse, France and the German extrusion plant in Bellenberg are in the process of delivering their first projects in France and Germany respectively. For these two projects, a total of 130 tons of Hydro CIRCAL 100R aluminium profiles has been manufactured. Providing a carbon footprint of 65 tons, this is a reduction of 800 tons compared to the carbon footprint of standard aluminium produced in Europe.
About TECHNAL
As one of the world's leading aluminium building systems, TECHNAL imagines with no limits to maximise people's comfort. We offer high-end design and innovative solutions, developed with a sustainable approach. Our joineries are recycled and recyclable.
Based on 60 years of experience, TECHNAL provides solutions for windows, doors, sliders, facades and solar protections, particularly through its network of qualified fabricators and installers.
TECHNAL meets the highest architectural ambitions, featuring minimalistic design and offering exclusive ranges of colours and handles.
TECHNAL is a premium brand available worldwide, but is known under different names in some countries:
DOMAL in Italy
SAPA in Benelux, Scandinavia and Baltics
TECHNAL is a brand of Hydro Group, a global integrated company presented in a broad range of market segments for aluminium and metal recycling, energy and renewables.
Back to Top