08–10 OCTOBER 2019 | NEC | BIRMINGHAM

News
GREEN OPEN SPACE ABOVE LIDL STORE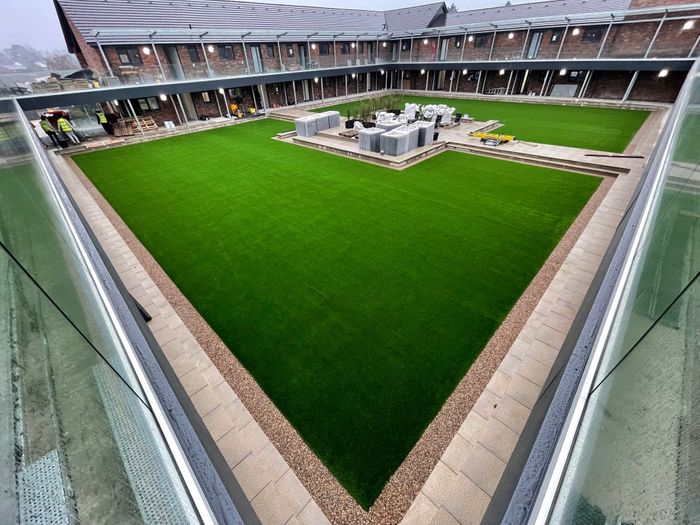 640 square metre roof garden for 30 rooftop apartments in Surrey
Fire-classified and wind-resistant
The EverRoof team completed the fire-classified and highly wind-resistant specially-designed artificial green roof system in March 2022. The EVR1 system, widely used on similar projects across UK roof gardens and podium landscapes, is unique in its materials, construction and, most importantly, its classification for use on roof surfaces.
Made from Wonder Yarn, its convincing real-life appearance is both durable and easy to maintain - just a brush off and hose down of any debris once in a while. The system is laid on Forcefield Foam, a 30mm shock absorbing foam layer with a fire retardant filter fleece top. Beneath the foam is a drainage layer made from extruded polypropylene, Ever Drain, which increases the shock absorbency as well as being rodent-proof.
Efficient and professional installation
The completion of the green roof has been praised by the main contractor and building contractor responsible for all elements of the build. Site Manager Mark Clare of Adston Construction particularly praised the communication, organisation and professionalism of the EverRoof team:
"This was the first time I had worked with an artificial green roof supplier. From the first discussions after the system had been recommended to us and specified on the project, we had confidence and peace of mind that the end result would be impressive - and it is! The team and the system's credentials are a credit to Jim (Footitt, Managing Director, Evergreens UK Group) who was involved throughout." – Mark Clare, Adston Construction
EverRoof is a division of Evergreens UK Group, a family-run business, who over the past 35 years have pioneered the artificial grass market in the UK for landscaping applications.
Back to Top