08–10 OCTOBER 2019 | NEC | BIRMINGHAM

News
Wood Treatment and Protection: Adkalis, at the forefront of regulations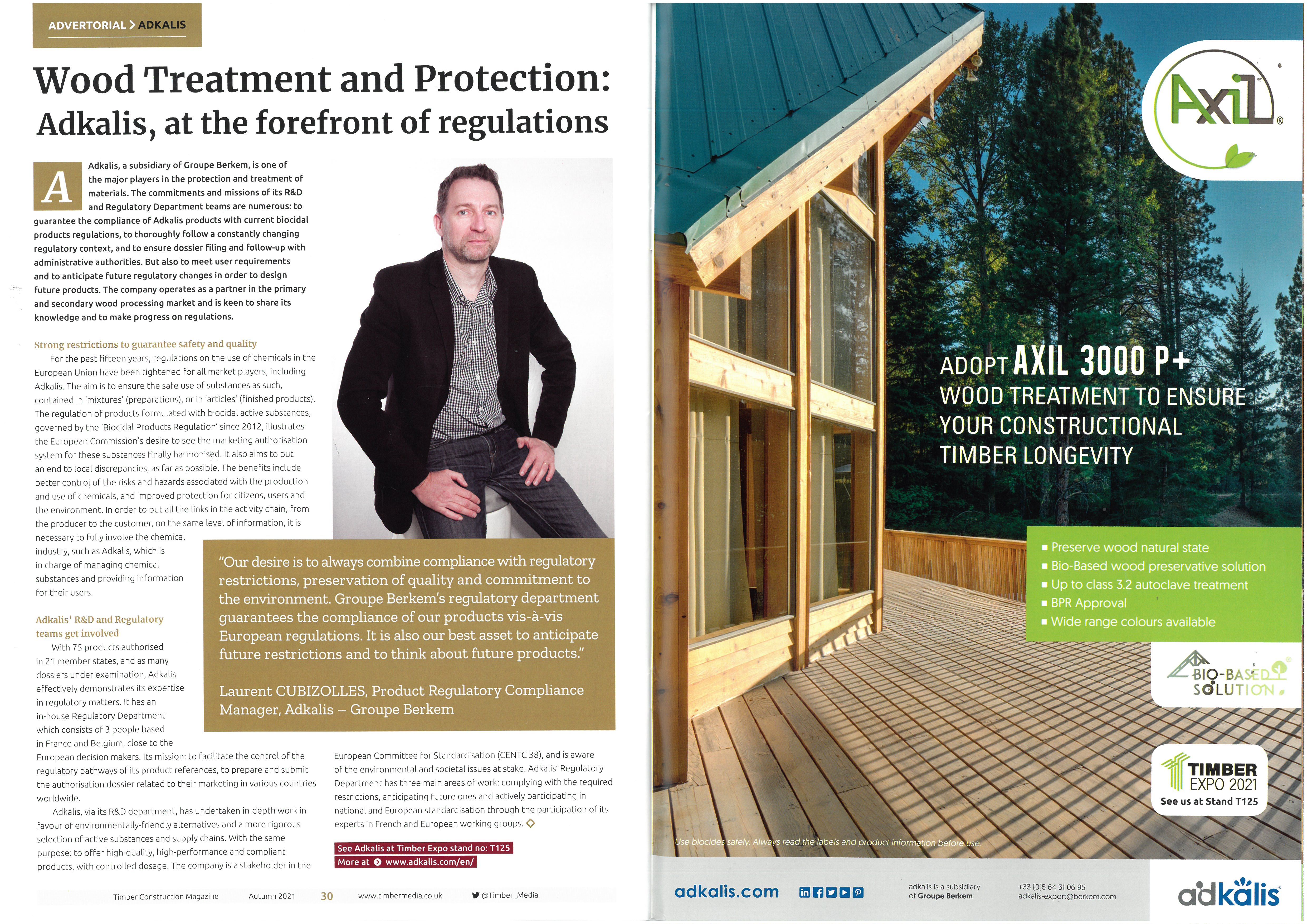 Adkalis, a subsidiary of Groupe Berkem, is one of the major players in the protection and treatment of materials. The commitments and missions of its R&D and Regulatory Department teams are numerous: to guarantee the compliance of Adkalis products with current biocidal products regulations, to thoroughly follow a constantly changing regulatory context, and to ensure dossier filing and follow-up with administrative authorities. But also to meet user requirements and to anticipate future regulatory changes in order to design future products. The company operates as a partner in the primary and secondary wood processing market and is keen to share its knowledge and to make progress on regulations.

Strong restrictions to guarantee safety and quality
For the past fifteen years, regulations on the use of chemicals in the European Union have been tightened for all market players, including Adkalis. The aim is to ensure the safe use of substances as such, contained in 'mixtures' (preparations), or in 'articles' (finished products).
The regulation of products formulated with biocidal active substances, governed by the 'Biocidal Products Regulation' since 2012, illustrates the European Commission's desire to see the marketing authorisation system for these substances finally harmonised. It also aims to put an end to local discrepancies, as far as possible. The benefits include better control of the risks and hazards associated with the production and use of chemicals, and improved protection for citizens, users and the environment. In order to put all the links in the activity chain, from the producer to the customer, on the same level of information, it is necessary to fully involve the chemical industry, such as Adkalis, which is
in charge of managing chemical substances and providing information for their users.

Adkalis' R&D and Regulatory teams get involved
With 75 products authorised in 21 member states, and as many
dossiers under examination, Adkalis effectively demonstrates its expertise in regulatory matters. It has an in-house Regulatory Department which consists of 3 people based in France and Belgium, close to the European decision makers. Its mission: to facilitate the control of the regulatory pathways of its product references, to prepare and submit the authorisation dossier related to their marketing in various countries worldwide.
Adkalis, via its R&D department, has undertaken in-depth work in favour of environmentally-friendly alternatives and a more rigorous selection of active substances and supply chains. With the same purpose: to offer high-quality, high-performance and compliant products, with controlled dosage. The company is a stakeholder in the European Committee for Standardisation (CENTC 38), and is aware of the environmental and societal issues at stake. Adkalis' Regulatory Department has three main areas of work: complying with the required restrictions, anticipating future ones and actively participating in national and European standardisation through the participation of its experts in French and European working groups.
Back to Top