08–10 OCTOBER 2019 | NEC | BIRMINGHAM

News
When is a key not a key? When it's a smartphone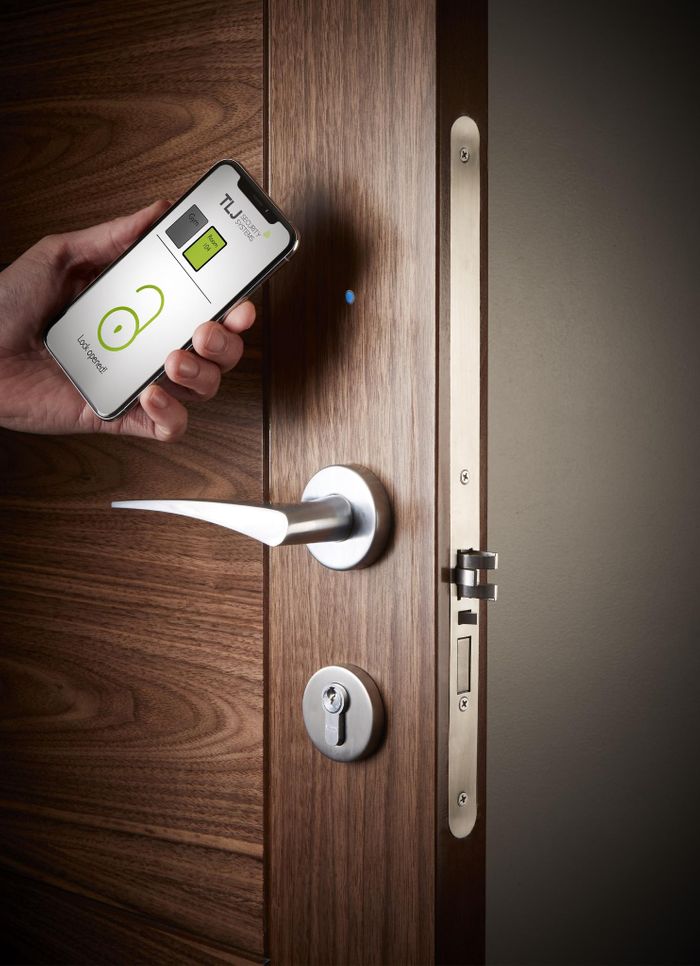 TLJ demonstrate their integrated access control solutions at UK Construction Week 2019.
Electronic locking systems have come a long way since the punched-card locks of the 1970's. Through 1990's magnetic stripe cards to more recent contactless RFID locks, access control has taken advantage of the digital revolution. It's become increasingly common for electronic locks to do away with physical keys altogether, replacing them with the user's smartphone.
Mobile Keys by TLJ
TLJ's take on smartphone-enabled locks is called Mobile Keys. The system is designed with simplicity and ease of use in mind: the end user receives notification that the operator has issued them a mobile key, prompting them to download the appropriate app for their smartphone. Once installed and registration has been verified, the app shows the user a range of doors for which keys have been issued. When in the vicinity of any of these doors the app allows the user to activate the lock via Bluetooth Low Energy (BLE) technology. Individual lock activations are transmitted in real time, via the cloud, back to the operator's software.
Convenience is a core benefit for both user and operator when running BLE-enabled locks. For the user, no physical key is required. BLE 'keys' can be sent and received anytime and anywhere, provided the user has access to a mobile data or Wi-Fi connection. This means no more lost keys, and no more queuing at busy reception desks to check in or check out!
Smart buildings demand smart solutions
At TLJ we didn't stop at electronic locks, extending the reach of our access control technology. As part of our new, integrated modular solution we offer cutting-edge smart building tech, controlled by a single, intuitive mobile app.
Elements include door entry intercoms combined with in-room touchscreens, lobby rescue point and charging stations, parcel drop / collection points and elevator control systems.
The best of the old with the best of the new
Given the nature of modern, smart building construction it would be foolish to concentrate purely on the technology whilst ignoring the aesthetic. That's why TLJ have produced the Invisible: a fully-featured smart lock that supports contactless card and BLE activation, whilst having all its functioning parts discreetly concealed inside the door.
For the architect or interior designer this provides the added bonus of being specifiable with any ironmongery they choose, to match the rest of the development.
The Invisible is complemented by the rest of the TLJ range, comprising electronic door locks, access control readers, energy saving room switches and elevator controllers.
Contact TLJ on 01482 830334, enquiry@tljlimited.com , www.tljlimited.com
Back to Top