08–10 OCTOBER 2019 | NEC | BIRMINGHAM

News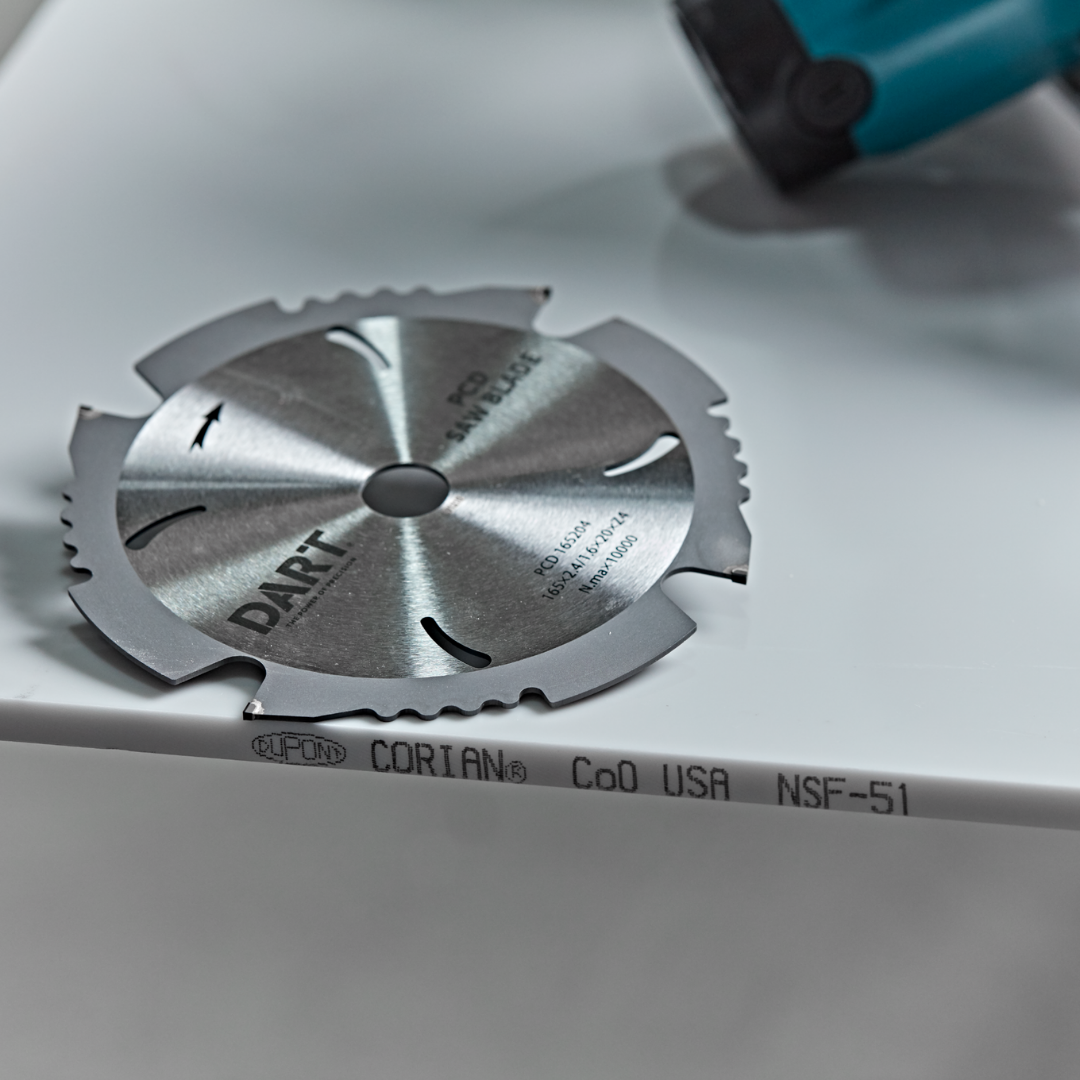 What, Why and Where do I use PCD Blades?
What are PCD Blades?
PCD Blades are blades for circular saws but compared to a standard circular saw blade where the teeth are tungsten carbide tipped, PCD blades have teeth made of Polycrystalline Diamond.
What is polycrystalline diamond?
Diamond is the hardest material in nature and is the most resistant to abrasion. Polycrystalline Diamond (PCD) is an artificial diamond produced in a laboratory through a sintering process. It is an extremely resilient material where diamond crystals are bonded to a base material of tungsten carbide.
During the sintering process, the spaces between the PCD grains are filled with a cobalt alloy and the single diamond grains bond to each other.
This results is a material that matches no other in terms of toughness, durability and resistance, making polycrystalline diamond an excellent cutting material and perfect for use in cutting tools especially where the material is particularly abrasive. It also contributes to the diamond tool having a longer cutting lifetime. In fact, DART PCD blades will last up to 15x longer than a DART TCT Saw Blade!
Features of a PCD Blade.
Most PCD Blades typically have 4 or 8 teeth. Due to the durability of the tooth, it is unnecessary to have multiple teeth like a TCT blade. Also compared to TCT teeth, PCD teeth will take shavings meaning less dust.
DART PCD Blades feature an extra-large gullet design which improves the removal of material.
How to use a PCD Blade:
When using a PCD Blade is important to never have the blade sticking more than 1mm out of the bottom of the substrate. By allowing the whole tooth to be exposed below the material, the tooth will smash into the bottom of the substrate as it comes back through. This action will weaken the tooth and cause it to shatter or detach itself from the blade.
Why should I use PCD Blades?
Designed with durability and accuracy in mind, DART PCD Fibre Cement Saw Blades are suitable for a wide variety of tough materials and should be considered when sawing:
Wood based materials, for example MDF.
Composite Materials, for example, Composite Decking, Fibre Cement Board and Carbon Fibre Reinforced Polymer (CFRP).
Plastics, for example, thermosetting plastic and Glass Reinforced Plastic (GRP).
Two of the main uses for a PCD blade in the UK are for Composite Decking and Fibre Cement Board Cladding.
Composite Decking is a man-made product made up of a mix of wood fibres, plastic and bonding agent. Due to its long life, easy care and quality look and feel, it is becoming the go-to for decking. There are many types of composite decking, for example:
NeoTimber
Trex
WeatherDek
Milboard
Fibre Cement Board Cladding is also a man-made material. It is made up of sand, cement and cellulose fibres. Thanks to its energy efficiency, sustainability, durability and distinct design, fibre cement board cladding is becoming increasingly popular on residential buildings.
There are many types of Fibre Cement Board Cladding, for example:
Hardieplank
Trespa
Minerit
Eternit
DART PCD Blades will last up to 15x longer in these materials compared to a TCT blade, making them an excellent price/performance blade.
PCD Blades should not be used on ferrous materials, because Polycrystalline Diamond reacts to elements such as iron and cobalt, so this will cause tool deterioration.
DART PCD Blades are competitively priced in the market and live up to the trusted high quality DART standard. When choosing a DART PCD blade, you can be sure it will exceed your expectations, cut through tough materials with accuracy, and last you 15x longer than a standard TCT blade!
We love to see our DART products in action! Be sure to tag DART Tool Group on Facebook, Instagram and LinkedIn to share how a DART PCD Fibre Cement Blade made your life easier!
Back to Top