08–10 OCTOBER 2019 | NEC | BIRMINGHAM

News
Våler Kirke church has angular wooden roofs designed to evoke its historic predecessor | Construction Buzz #204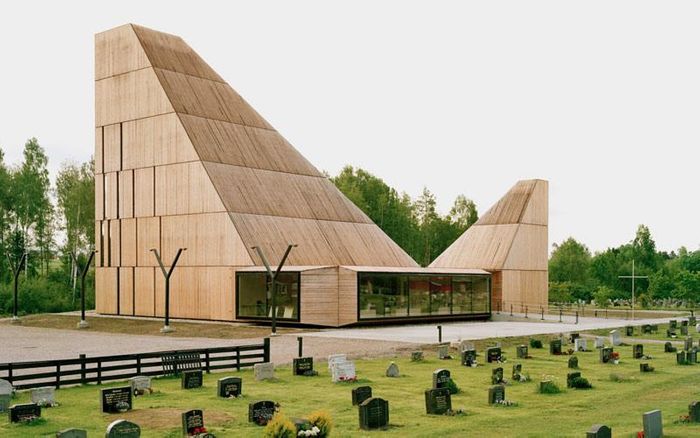 Espen Surnevik's replacement for a 19th-century church lost to a fire in the Norwegian village of Våler has pyramidal timber roofs that funnel daylight into its worship spaces.
Våler Kirke replaces the village's historic wooden kirke – or church – that was completely destroyed by a fire in 2009. Oslo-based architect Espen Surnevik's design was the winner of an international competition as it presented an empathic response to the brief by honouring the memory of the previous church.
"The main story of the liturgy has become the narrative of the church: from fire to resurrection," Surnevik explained, adding that the new building's location, form and materiality are informed by its predecessor.
The Våler Kirke is positioned on the existing processional axis through the site. Its main entrance is directly aligned with that of the original 1860 building, which is immortalised by a low wall that traces its outline in the graveyard.
The new building's floorplan is organised in four quadrants, with the main hall and baptistery flanked by a communal area and administration spaces.
This arrangement, along with projecting oriel openings on the north, south, east and west facades, directly references the old church's cross-shaped form.
These two main spaces are defined externally by their pyramidal roofs, which reach heights of 12 and 24 metres. The angular volumes rest on a cast-concrete plinth that forms a common base or "bedrock" for the church.
Both of the roof structures are topped with openings that allow daylight to flood into the worship spaces and provide the congregation with a direct visual connection to the sky.
During the design process, Surnevik collaborated with artist Espen Dietrichson on ways to express the theme of resurrection through aspects of the church's architecture.
Back to Top