08–10 OCTOBER 2019 | NEC | BIRMINGHAM

News
Timber faces the heat of combustibles ban | Construction Buzz #203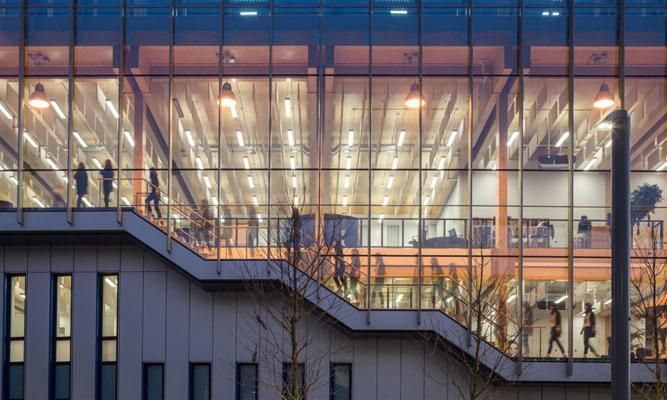 The timber sector is up in arms over the Government's ban on combustibles in new high-rise buildings – but how will the ruling impact the market? Stephen Cousins reports.
The UK stands at the forefront of a revolution in engineered timber construction as architects and contractors push creative and technical boundaries to deliver increasingly challenging structures.
Innovative new products and design methods have allowed timber to compete structurally at scale with concrete or steel, which among other things has resulted in development of the world's first nine-storey timber residential building, Murray Grove in the London Borough of Hackney, and the world's largest cross-laminated timber (CLT) building, in terms of volume of wood, Dalston Works in east London.
Constructing with timber, versus traditional materials with high embodied carbon, helps cut emissions and may be critical to keep global warming below 1.5 deg C, needed to prevent the worst effects of climate change. CLT, which is relatively light and quick to erect, has even been held up as a potential solution to the housing crisis.
But growing ambitions for engineered timber could be cut short by controversial government fire safety legislation, introduced to prevent a repeat of the Grenfell Tower tragedy. The ban on the use of combustible materials in the external walls of residential buildings over 18m tall, enforced from 21 December, has the potential to damage the CLT market and has been fiercely opposed by architects and manufacturers who claim it is not based on the evidence (see box).
Meanwhile, Whitehall's decision to "take forward" all the recommendations in Dame Judith Hackitt's independent review of building regulations and fire safety will have wider implications for supply chains working in engineered timber across all building types.
Growing market
The past five years has seen engineered timber take hold in the UK where, thanks in part to falling prices and the rise of the sustainability agenda, it has been used to deliver over 500 buildings to date.
A proven solution for low and medium-rise residential buildings and schools, CLT is now being applied to swimming pools, gymnasiums, light industrial buildings and office blocks.
Its use by Sky, on the Believe in Better building – the tallest commercial timber building in the UK – and more recently Google, for the new European HQ currently on site at King's Cross, are evidence of CLT's increasing popularity. Key benefits include rapid installation, reduced waste, lighter weight compared to concrete, meaning fewer foundations, and much lower embodied carbon.
Innovations are driving the development of new engineered timber products and design methods. Hybrid structures that use CLT in combination with glulam, laminated veneer lumber (LVL) or steel beams make it possible to achieve the bigger spans required for commercial offices and industrial buildings. For example, the recently completed factory headquarters for Vitsoe in Royal Leamington Spa, Warwickshire, was able to achieve 25m column-free spans using a newly developed beech LVL.
New parametric modelling systems are also making it possible to develop panels that are bespoke to specific purposes using different types and thicknesses of timber and different laminates.
Adrian Campbell, director at engineering consultant Changebuilding, says: "There is a tremendous drive for offsite right now, fuelled by the digitisation of the industry, and a significant number of timber modular systems appearing, including volumetric CLT systems by Swan Housing. There are numerous ways engineered timber can be used to supplement or replace traditional building elements."
Grenfell fallout
The Grenfell tragedy sent out shockwaves that will be felt for many years to come. Where previously, insurance to construct tall buildings was relatively straightforward, albeit with slightly fluctuating premiums, post-Grenfell they have increased significantly. And although much of the media focus was on the tower's cladding, a knock-on effect has been that insurers today perceive any tall building as an insurance risk.
"In the past the industry took it for granted that you could get insurance to build things, but the market is becoming tighter and tighter – it's a rapidly changing landscape we have to operate in," says Tim Carey, national product director at Willmott Dixon. "Certain products and systems that were previously acceptable, including engineered timber, are now very difficult to get insurance on. I wouldn't be surprised if we start to see exclusion clauses relating to CLT appearing in insurance documents."
He is part of an early adopters group set up by the Ministry of Housing, Communities and Local Government (MHCLG) to trial ways of working in line with the recommendations of the Hackitt Review.
According to Carey, things came to a head recently when the main contractor was unable to get insurance cover to build a circa 15-storey tower block out of CLT. The material was a requirement for the customer's architect so Willmott Dixon was forced to decline the opportunity.
This prompted it to develop a new set of internal policies for fire safety and compliance to help futureproof the business and its customers and projects in the shorter term. In a move that pre-empted the latest government ruling, the company banned the use of any combustible materials in external wall build-ups, including structural elements, cladding and insulation, for any buildings over 18m tall.
"This is about taking a pragmatic position on what we think is reasonable. Our view is that in the wider industry, too many buildings are being built with inappropriate materials without sufficient duty of care or auditing to know what goes into a building to make it safe," says Carey.
Up in flames?
The decision by government to impose its own ban on combustibles was welcomed by many, but strongly criticised by architects, manufacturers and others working with CLT (currently the only viable structural timber solution for high-rise) who believe its inclusion within the regulation was arbitrary and unjustified.
The law applies to all new housing, student accommodation, registered care homes, hospitals and boarding school dormitories over 18m tall and states that only materials with European fire rating of Class A1 or A2 may be used in external walls, which excludes all wood products.
Above: Australia's tallest timber building, 25 King, is constructed using glulam and CLT (Tom Roe). Below: The Hive in Worcester is home to the City of Worcester's public library and the University of Worcester's public library (Hufton + Crow)
Some critics pointed to the fact that Grenfell was a concrete-framed tower and the spread of the flames is thought to have been accelerated by combustible aluminium-composite cladding, not by wood.
Also notable is the fact that the final Hackitt report itself does not recommend a ban; instead it states that too much focus has been placed on the faults of the Grenfell cladding rather than on reviewing the system as a whole.
One of its eight key recommendations is to develop a clearer, more transparent and more effective specification and testing regime of construction products, including products as they are put together as part of a system. It states that this should include clear statements on what systems products can and cannot be used for, with their use made essential.
Mark Stevenson, chairman of the Structural Timber Association, says: "Given the way that clients are looking at their buildings and wanting to better understand performance and how things get delivered, we need to be looking at overall systems. This isn't about individual products, it is more about how they come together to provide safety for occupants.
You could imagine a situation where a collection of non-combustible materials still act like a chimney to spread fire, so wouldn't it be better to design a system that prevents something like that from happening?"
Thick and resistant
Connecting timber with elevated fire risk might seem like common sense, but one of the major advantages of CLT is its inherent fire resistance. As a panelised system with a thick cross-section, it is designed to char slowly and maintain its structural integrity.
In addition, the emphasis on upfront design and offsite manufacture makes it possible to create super-airtight spaces that prevent the spread of fire. In practice, a combination of timber charring and fire-resistant boards are commonly used to achieve the fire rating.
However, CLT remains a relatively new material with limited in-use fire testing, and codes are still being adapted to accommodate it.
Given the global drive to build increasingly taller "ply-scrapers" (see below), there are concerns that the recent ban will compromise Britain's position at the forefront of innovation in engineered timber.
The ban is likely to result in changes to specifications and approaches but is unlikely to prevent the general use of engineered timber frames. The reality could be some form of hybrid structural solution, which may have an impact on sequencing, speed of delivery and the amount of onsite labour.
Architect Waugh Thistleton, a prominent CLT advocate, is amending design proposals to take into account the need for some form of steel frame system for external walls, alongside internal CLT floor slabs, walls, core and stairs.
"It's not the best way to build; part of the advantage of building in CLT is that the frame for each floor goes up simultaneously and from a single source of delivery, which ensures that the site is fully accessible and safe for use by follow-on trades on every floor below the one being built," says founding partner Anthony Thistleton.
"We expect the speed of CLT erection to be compromised by this regulation in the short term. We are currently working to see if we can tie up with manufacturers of offsite panel systems so we can synchronise installation with CLT."
Meanwhile, the CLT Hub, a collection of all key UK stakeholders, continues to lobby the government and local authorities to overturn the ban. Evidence from global fire performance testing is being compiled to present the case.
Whatever the ultimate outcome, its proponents argue engineered timber remains one of the quickest and most sustainable methods of construction and believe the current situation may constitute a bump in the road.
"We often draw a parallel with the growth of concrete and reinforced concrete in the 20th century. When you look at the trajectory of innovation and architecture that emerged in the concrete age, we are only just at the beginning of the timber age and there is still a huge amount to achieve," Thistleton concludes.
The international perspective on high-rise timber
Away from the UK, the rest of the world continues to build higher and higher with timber.
Last month, the US-based International Code Council (ICC) gave the go-ahead for 14 tall mass timber code change proposals that will allow mass timber buildings to reach up to 18 storeys. The changes will be included in the 2021 International Building Code.
The world's highest mass timber tower, at 53m, is currently the 18-storey high Brock Commons in Vancouver, which is supported on a timber frame but enclosed by a skin of drywall and concrete.
Australia's tallest timber building is a 45m-high office in Brisbane, which uses an offsite manufactured structure of glulam and cross-laminated timber (CLT). It was completed last year after a build of just 15 months.
The 10-storey building, known as 25 King, was designed by architect Bates Smart for Lendlease.
Meanwhile, the world's tallest timber tower is under construction in the Norwegian town of Brumunddal: the Mjøstårnet tower at 80m high will dwarf its closest rival by 27m.
The 18-storey structure is based around a perimeter frame of glulam columns, beams and diagonals that brace the external walls and carry vertical and horizontal loads.
A CLT core holds three elevators and two staircases. There are about 400 giant glulam elements in total, the biggest of which has a cross section of 1.5m x 0.6m.
The Mjøstårnet tower is due to open next month.
Back to Top