08–10 OCTOBER 2019 | NEC | BIRMINGHAM

News
T-T Launch New Package Pumping Station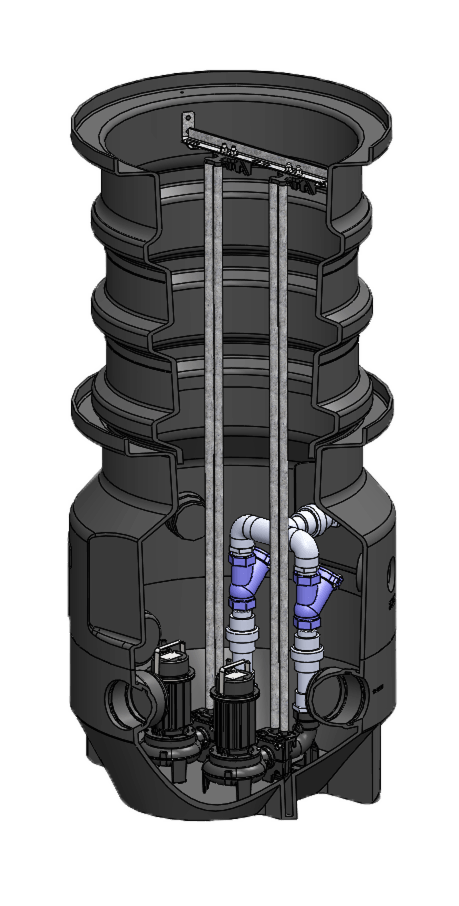 New for 2019, T-T have further evolved its range of package pumping stations. The sewage and waste water pumping stations are part of their long established Planet Range. T-T have redeveloped specifically the Mercury and Venus models from the range so they now have a round access cover and are available with an extension turret.
The extension turret is an innovative design that allows the installer to change the depth of the chamber installation to suit site-specific levels. The previous range was restricted to the station design depth only, however, T-T has witnessed that due to site complications and requirements it would be useful to be able to extend the depth of the tank. The extension turret is placed on top of the tank and clamped and sealed in place and can be cut at set increments to adjust the height of the pumping station chamber to suit requirements. The focus on this requirement is to aid in the reduction of installation time and to provide product flexibility in site conditions.
The round top and access cover have been introduced to remove the risk of the previous square style access cover, dropping into the chamber during installation or maintenance. This ensures added safety when installing and maintaining the station. Access covers, subject to their loading specification, can be very heavy and pose a significant health and safety risk as well as an increased risk of equipment damage positioned below. This consideration makes the range suitable for the world market, where round access covers are a preference.
Ben Nash, Sales Director comments, "It is important for us to continually develop our range to ensure we are meeting market demands and providing innovative products to move the pumping industry forward. The development of the new pumping station range was initiated due to our constant ambition to bring new products that are designed to help solve industry issues."
The new range will replace the previous Mercury and Venus designs, which are currently 1.2m and 2.3m deep. With the addition of the extension turret, the total external depth can be taken to 2.16m and 3.24m respectively.
For more information visit www.ttpumps.com or call our team on +44 (0)1630 647200.
Back to Top