08–10 OCTOBER 2019 | NEC | BIRMINGHAM

News
T-T launch new and improved Pluto basement drainage pumping station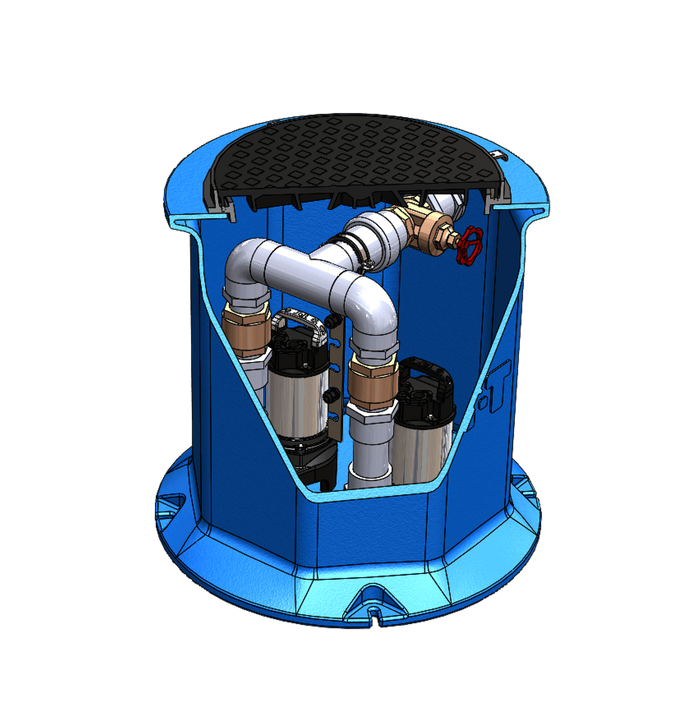 Brand new for 2019, T-T have evolved their range of package pumping stations and introduced the new and improved Pluto to its long established Planet Range. The Pluto Pumping Station is the most effective means for collecting and removing excess water collected from a cavity drainage system.
The brand-new Pluto Pumping Station features a polygon shaped tank and several vertical flat sides, designed to accommodate a variety of basement drainage layouts. These flat faces make sealing inlet pipes and cable ducts simple and quick using the supplied gaskets. The large radius transition between these flat sides give the tank exceptional strength and durability.
Previously, pumps were installed in a concrete sump which has proven to be problematic where nuisance water was not being completely drained away and therefore creating odors from the stagnant liquid. A focus on the shape of the tank has eliminated this issue and provided a complete solution for removing drainage water from basement conversions and underground developments.
End
The new design features seven 'useable' flat faces which
provide greater flexibility for installing inlet pipes and cable
ducts, versatile for each situation. The new design makes
installation simple, something which can be tricky in the confined
spaces that the pumping station is designed for.
Several features have been added to aid the installation and
maintenance process of the pumping station. A single round
access cover and frame have been introduced to remove the
risk of the previous square style access cover, dropping into the
chamber during installation or maintenance. This has removed
the risk of damaging the pipework, pumps and cables, whilst
improving safety whilst installing and maintaining the station. A
quick release union has been introduced to aid removal of
pipework and the pump making maintenance quicker and easier.
Additional features include a gate valve to control the return flow where the pump and/or pipework require
removal for maintenance purposes, and a stainless-steel float bracket has been added to support
removal and installation of float switches, eliminating the requirement to remove pipework and therefore
providing anti-corrosion protection.
Ben Nash, Sales Director comments "We embarked on this product development due to the demand for a
drainage pumping station suitable for locations where there is limited space. Our Pluto has been
designed primarily for installation in inner city locations where there is underground development, the
Pluto removes drainage water which has been collected from the cavity walls."
The new Pluto has replaced the existing design and is now available. For more information, visit
www.ttpumps.com or call our team on +44 (0) 1630 647200.
Back to Top