08–10 OCTOBER 2019 | NEC | BIRMINGHAM

News
T CARDS ONLINE IMPROVES EFFICIENCY WITH AUTOMATED WORKFLOW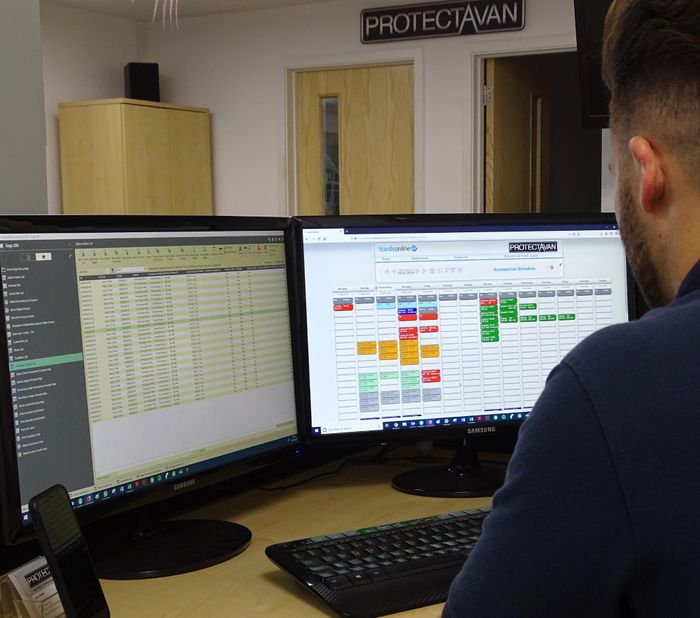 Smooth and efficient management of workloads is essential for any company, large or small, and Essex based ProtectAVan have appreciated the benefits of the T CARDS ONLINE in helping them run their successful vehicle enhancement business
This family run company operates from 2 locations providing a 'one-stop-shop' specialising in physical security products for light commercial vehicles. Popular products include; roof racks, bars, deadlocks, slam-locks, toe bars, catalytic converters and OBD/ECU protection devices.
The tried and trusted manual T Card Board served them well for many years until rapid expansion combined with an increase in staff required a more sophisticated and integrated online workflow system. In 2014 they explored the options and after testing and research the choice was T CARDS ONLINE for its simplicity, cost effectiveness and ease of installation.
The T Card Online systems' value as an online workflow management tool used across multiple PC's, was quickly proven but ProtectAVan wanted to explore the benefits of integrating T Cards Online with their accountancy Sage 200 software. To connect with Sage they utilised the T Cards Online API (Application Programming Interface). ProtectAVan used DCS-Solutions (an IT / Digital solutions provider) to help with he integration. The T Cards Online, DCS-Solutions collaboration, resulted in a tailor-made software solution which has already proved successful for ProtectAVan.
Luke Powell, Sales Manager at ProtectAVan comments, "We have benefitted from using the T Cards systems over many years, initially using the manual T Cards Board in the early days before we switched to the T Cards Online package as the company expanded". Luke continues, "Moving forward we wanted to explore the possibility of linking T Cards Online with Sage 200 to enable more staff to access ALL the relevant customer information and process data with maximum transparency and efficiency".
Luke confirmed, "The result is we now have an automate workflow system which exactly matches our needs enabling more people to access and view information whilst minimising the need for order input reducing duplication and saving us time".
ProtectAVans' experience in using the innovative T Cards Online system is another example of how an increasingly wide range of companies are exploring and benefitting from a simple, yet highly effective online management tool. Furthermore, the ability to link the system to other software packages via the API illustrates the potential to develop this highly effective management tool to the very specific needs of an even wider range of businesses.
Back to Top