08–10 OCTOBER 2019 | NEC | BIRMINGHAM

News
Solutions for Smarter Construction Site Security Lighting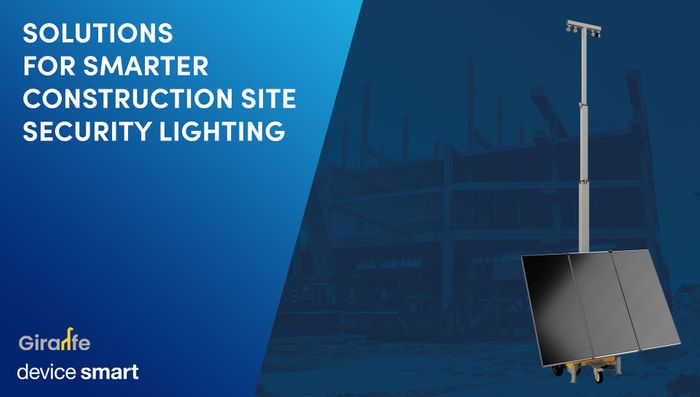 The first product to market from the collaboration between Device Smart and Giraffe is a Smart Solar Lighting Tower for construction sites.
There is significant pressure on construction companies to reduce diesel power generation and lighting towers are used in significant numbers across all regions. To support the shift to renewable energy a solar powered lighting tower needs some smart technology, not just big panels and batteries. Indeed, one key advantage of this new product is the compact footprint that allows up to 14 towers to be transported by lorry, rather than needing to be towed individually to sites.
The powerful LED floodlights can be configured to turn on under different scenarios; when it gets dark, when there is movement nearby, on a timer or simply manual control - locally or remotely via the app or web portal. This is where the smart aspects of these units ensure longevity over long dark winters when lighting becomes more necessary. Motion and daylight sensors control dimmable LEDs offer extended operation whilst still providing safe illumination. Efficiency mode reduces the power consumption until there is motion then the LEDs can immediately return to 100% power.
Cloud connectivity enables integration with surveillance towers and perimeter security systems, allowing the solar towers to enhance site security as well as safety. Adding a wireless security hub provides broad integration with a range of sensors, site CCTV cameras and other security solutions. Battery performance, solar energy generation, operational status and remote control are all supported through the cloud portal and mobile app.
Adding strobing alarms for additional deterrence as well as audio warning systems and a mast mount bracket for fixing motion activated cameras extends functionality from health and safety to security deterrence.
For more information on the Smart Solar Lighting Tower contact Device Smart via the enquiry form on their website – devicesmart.uk
Device Smart will be at the UK Construction from 3rd-5th October at the Birmingham NEC, where they will be available to discuss the Smart Solar Lighting Tower and their other products.
Back to Top