08–10 OCTOBER 2019 | NEC | BIRMINGHAM

News
Product of the Week: SPSenvirowall's Cavity System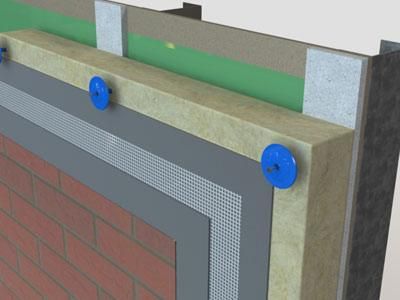 SPSenvirowall's Cavity System is the latest fully tested and accredited addition to its expanding range of innovative external wall insulation systems.
Extensively used on lightweight structures, cavity systems create a drainage void between the cladding and the sheathed framed structure. SPSenvirowall Cavity Systems 1 & 2 are the next generation of this solution.
This modern method of construction has proven extremely popular over recent years and dominates the build method used for mid to high rise structures, which is an ideal scenario to specify and install the new SPSenvirowall Cavity Systems.
The SPSenvirowall Cavity Systems consist of EuroClass A1 components, which are mechanically fixed back to the inner sheathing board to create the designed cavity width, with either the insulation board fitted directly to the A1 fillets (CS1 system) or a secondary A1 sheathing board and insulation (CS2 system).
Features & Benefits
• Compliant with Approved Document B and Technical Handbook section 2
• Minimum EuroClass Reaction to Fire classification of A2 – s1, d0
• EuroClass A1 support system
• Takes cladding out of the critical path by quickly weatherproofing the building
• Low-cost cladding solution
• Fast application
• Tried and tested
• Wide range of colours and finishes including brick slips
• Easily achieves high levels of thermal performance
• Highly durable and weather resistant
• Crack resistant
Façade Finishes
•Textured: FlexiSil (Acrylic), EnviroSil (Silicone), Enviromin (Mineral)
• Brick: SpeedySlip (Flexible Slip), BrickStick (Clay Slip),
Suitable for the following construction types
• Lightweight Framed Structures (LSF)

For more information and brochure download:
https://spsenvirowall.co.uk/assets/technical-resources/SPSenvirowall-Cavity-System-1-2.pdf
Back to Top