08–10 OCTOBER 2019 | NEC | BIRMINGHAM

News
Pre-wall installation? Fine – but make it effective, uncomplicated and rigorously tested.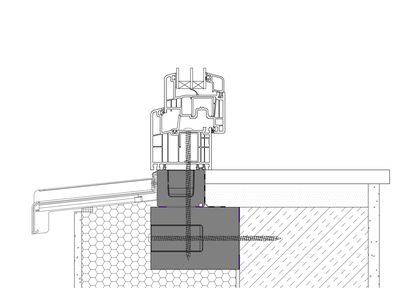 A free choice of installation situation and sealing method, but always the tested result – that's the dream of just about every contractor or fitter when it comes to the subject of pre-wall installation.
The blaugelb Triotherm+ system now makes this achievable without any restrictions on planning or further execution. It's a tried and tested system which is easy to fit and creates real added value in all aspects of windows.
There are no limitations on the choice of seal, but it should always be applied properly. At the end of the day, for example, it is down to the fitter or the planner to decide which products are used for the window seal. Alternatively, they can rely on the recommended blaugelb components with which the MO-01 testing was performed.
The individual profiles have an innovative dovetail joint, which means that transporting them to the construction site is no longer a major exercise in logistics. The compact dimensions of the profiles combined with the sturdy dovetail joint allow them to be lengthened effortlessly at all times, even for larger sized windows. That saves time, money and nerves.
Not only does the blaugelb Hybrid Polymer Power Fix keep blaugelb Triotherm+ profiles in place until they are bolted to the wall, it also provides an increased measure of security and sealing quality between the wall and blaugelb Triotherm+ profiles, even where the substrate is not 100% level.
The blaugelb Frame Screw Fix FK-T30 anchors blaugelb Triotherm+ profiles securely to the base. It allows the blaugelb Pre-Wall Installation System to be attached to the load-bearing structure with a secure mechanical fixing.
https://www.das-neue-blaugelb.de/en/the-systems/pre-wall-installation-system-triotherm.html
---
Meesenburg - is a dealer and competence partner for construction industry for everything to do with windows and doors assembly and professional installation. The wide product portfolio ranges from fittings for windows and doors to tools, profiles, seals and assembly material through to security technology.
http://www.meesenburg.com
Back to Top