08–10 OCTOBER 2019 | NEC | BIRMINGHAM

News
Modular homes Q&A with Joseph Daniels, Project Etopia | Construction Buzz #223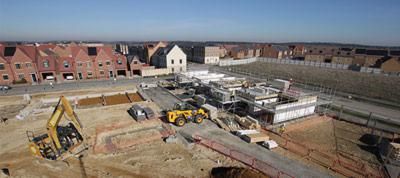 Tell us about the factory: what type of properties can be made onsite and where will the modular homes be placed?
The factory will create the panels needed to build modular homes. It has the capability of producing enough panels for 2,000 homes a year, although we have ambitions to grow capacity to 6,000 homes a year. By using a panelised system, the parts can be transported to any part of the country where a house can then be built on-site.
The benefit of using a panelised system rather than building complete homes in a factory is the improved flexibility. By constructing a home on-site it is easier to make any adaptations if anything unexpected crops up during the building process. Using panels also means homes can have different layouts, sizes and appearance.
We are currently building 47 eco-homes in Corby, Northamptonshire, comprised of 31 houses and 16 apartments, and we are in negotiations about further developments.
Why did you decide to set up the factory as a joint venture and what does the partnership offer clients?
Our partnership has enabled us to hit the ground running and ensured everything was operational by the time we started work at Corby. We can draw on 4wall's panel-construction expertise and ensure panels are arriving on site that are thoroughly tested and robustly built.
For clients, this means a project can be identified and delivered in a rapid timeframe. Once planning permission is granted, we can be on-site to do groundwork straight away and deliver homes in speeds not possible with traditional builds. For example, the superstructures of our first four houses in Corby were up in just 34 days or 8.5 days per unit. It means clients can very quickly show potential tenants or homeowners what the homes will look like, rather than relying on artist impressions.
The terms "prefab" and "portacabin" are often bandied about when speaking about modular buildings – how have things changed in modern methods of construction?
A lot of the negative perceptions about modular housing are built upon the outdated image of post-war 'prefabs', and today's modular homes are unrecognisable in comparison. Technology has moved on a lot and we are now in a place where modular homes not only stand up to all the rigours of everyday living, but are comparable — and even surpass — the quality of traditional bricks and mortar homes. For example, our panels have better thermal efficiency, with a superior U-value of 0.13 compared to 0.16 for a typical well-insulated wall in a new build brick property. The panels can also withstand winds of up to 462mph. Prefabrication used to be a byword for something could be easily transported and assembled. That was about it – but Modern Methods of Construction (MMC) now make use of the other advantages of off-site preparation, which are in-built environmental efficiencies, greater complexity of possible designs and improved aesthetics.
Modular buildings offer an environmental benefit too. House-building traditionally has an environmental cost, but this is dramatically reduced by using off-site construction, as projects of the same scale can be completed in a matter of months. This means there is less noise pollution and HGV traffic going to and from the site. There is also a drastic reduction in CO2 in modular construction compared to the amount used to produce, run and transport bricks, mortar and transport.
Why is modular construction a great method of construction for social and affordable housing projects?
A panelised modular build system like ours means the architectural design of homes can be customised. That means a Housing Association can produce elegant yet simple homes on a strict budget while a private individual down the road might use the same panels to create their dream 'grand design'.
Without changing the way we build houses, the reality is that the new homes people desperately need will not be built fast enough, to a good standard, and at the right price.
Speed is crucial — and this can only be offered by modular building methods, which can be constructed in weeks, not years. Long-term sustainable housing is the key to the social housing market, and integrating smart technologies means all tenants can enjoy a better user experience. Energy saving technology, which reduces bills for the occupant to almost zero, can also be integrated rather than retrofitted. Etopia homes come with environmental features as standard and we believe this will soon be the norm.
Source: Housing Association Magazine
Back to Top