08–10 OCTOBER 2019 | NEC | BIRMINGHAM

News
Modular construction: the Goldman Sachs effect | Construction Buzz #218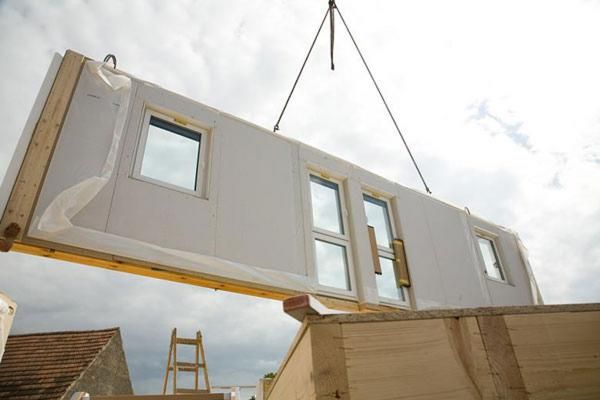 The investment bank's decision to put £75m into TopHat could signal changes to come for the whole housebuilding industry.
There's probably no bigger name in global finance than Goldman Sachs. Infamously characterised in by Rolling Stone in 2009 as the "great vampire squid" sucking money from the system of global capitalism, in many people's minds the $36bn-turnover investment bank is not just a big player in big capital: it is big capital.
Hence when Goldman Sachs decided last month to put £75m in to a modular housing manufacturer – TopHat – that has no finished schemes and didn't even exist three years ago, it made quite a few waves.
This is in part because of the message it sends about modern methods of construction, which until recently was regarded as the preserve of ideologues and enthusiasts – and of which modular construction is the most radical form. Modular housing, also called volumetric construction, is where three-dimensional homes or modules are built in a factory and shipped to site fully made, and so far accounts for just a tiny proportion of homes built.
TopHat, which is now working on its first exemplar scheme in Kent, is so far giving little away about how far Goldman Sachs' money will take the business. Others in the sector have set up modular facilities for just a few million pounds, but the size of the investment indicates Goldman Sachs believes there is potential for it to scale into a major player in UK housing.
It is not alone. Weeks after Goldman Sachs announced its Top Hat plans Japanese housebuilding giant Sekisui House revealed it had taken a 35% stake in modular homes developer Urban Splash. Clearly wanting a piece of the growth potential for UK housebuilding, given the government's oft-reperated goal of building 300,000 homes annually from the mid-2020s, Sekisui House plans to help Urban Splash ramp up the number of homes being built at its Alfreton factory tenfold to 2,000 units a year as soon as possible, backed by a team of executives flown in by the Japanese firm and currently working in London. Having built more than 2.4 million homes across the Far East, Australia and in the US, including 44,000 net-zero-energy homes, Sekisui House obviously knows its stuff.
While the Sekisui deal illustrated the appetite of international firms for the UK housebuilding sector, it was made even more notable since it attracted a direct stake in Urban Splash from Homes England, the government's housing delivery agency, which was adding to its existing debt facility of £27m with a £3m investment, equal to a 5% slice of the business.
So, how significant a moment are these endorsements of the sector, and what does it say about how far the modular industry has developed?
Cottage industry
Mark Farmer, chief executive of consultant Cast, says the Goldman Sachs investment marks "a major milestone in moving market sentiment", while the Sekisui House development "is as big as it gets in UK's modern methods of construction evolution. Sekisui House will bring world leading manufacturing know-how and capital to Urban Splash, along with co-investment by Homes England."
'[The Goldman Sachs investment is] a major milestone in moving market sentiment' Mark Farmer, Cast
Rory O'Hagan, director at architect Assael, describes the Goldman Sachs move as an "important vote of confidence by one of the world's largest investment banks." John Frankiewicz, former chief exec of contractor Willmott Dixon's capital works business and now chairman at builder and offsite specialist Collinson, says: "The Goldman Sachs investment shows that the high hope that has been long invested in MMC is now being matched by cash."
To put the deal in context, it's helpful to know just how little modular housing happens right now. While modern methods of construction (MMC) are becoming more widely used, most of those developers investing in new ways of working – such as Barratt, which has a target that 20% of homes are MMC by 2020 – are not going for modular. Mike De'Ath, partner in housing architect HTA Design, says that despite all of the recent noise about modular build, the actual capacity of the industry is still tiny – around 8,000-10,000 homes, with fewer than that delivered. So while MMC as a whole accounts, according to the NHBC, for 15-20% of new-build homes, modular itself probably accounts for less than 5%. "There are one or two more advanced firms that can deliver at scale," De'Ath says, "but the bulk of the market is pretty much a cottage industry."
'The bulk of the modular housing market is pretty much a cottage industry' Mike De'Ath, HTA Design
This cottage industry feel has always made big developers nervous: the last thing they want is to contract with a manufacturer using a proprietary modular system that then goes bust halfway through build out, leaving them with a very expensive problem to finish the scheme. "While the likes of Vision Modular, Caledonian and Ilke Homes have got a decent balance sheet behind them," says HTA's De'Ath, "In general the financial covenant behind the off-site sector has been a concern. That's why the TopHat deal is potentially so important."
Investment
Important developments that they are, it's not just about Goldman Sachs or Sekisui though. If the public statements made by housebuilders and modular manufacturers are to be believed, the UK's production capacity is about to increase markedly. In the last few years the likes of L&G, Berkeley Homes, Swan Housing and Ilke Homes have all made commitments to build or expand modular factories. Assael's O'Hagan says: "This feels like we're now moving beyond being a cottage industry."
Dave Sheridan, CEO at modular homes company Ilke Homes, itself backed by institutional investor TDR Capital, says his new factory alone can produce 2,000 homes per year, and plans are in place to scale that up to 5,000 per year by 2023. He says he has had "specific enquiries" to produce 5,000 homes within 12 months, "most of which have progressed into development." "Last year, the housing sector was talking about modular as a concept, as a future technology" he says. "This year, the conversation has moved on to concrete schemes, practicalities, delivery."
Likewise, Rob Perrins, chief executive of Berkeley Group, told Building its new precision manufacturing facility in Northfleet "will be a big part of our future business". "Everyone is waking up to the potential of MMC and we need everyone involved to support innovation and help unlock all the benefits it has to offer."
'Everyone is waking up to the potential of MMC and we need everyone involved to support innovation and help unlock all the benefits it has to offer' Rob Perrins, Berkeley Group
Beneath the radar, existing manufacturers are thought to be ramping up plans. Assael's O'Hagan says: "A lot of manufacturers with experience in schools and healthcare are eyeing up residential, working with designers like us. The ones we're talking to are all talking about doubling their capacity. I think we could see the current industry capacity at treble in a few years, if not more."
Of course, with Goldman Sachs' investment, TopHat itself will be one of those joining this movement. The building firm's American CEO, Jordan Rosenhaus, admits the firm has no publicly-revealed customers, but says it has already built a scalable production platform at its existing timber frame factory in Derbyshire from which it will grow (see box, below). "We're speaking to various groups – private rented housing funds, councils, registered providers, housebuilders, landowners," he says.
"The money will just allow us to continue to build out the platform in three ways – expanding capacity at the current factory, investing in developing our technology, and – absolutely – other production facilities."
One client who has already been persuaded by the case for modular is US-owned private rented sector (PRS) developer Greystar, which has chosen modular provider Vision Modular Systems as supplier for two developments now on site – the 2,000-home Greenford Quay scheme in Ealing, and the 44-storey George Street towers in Croydon, thought to be the tallest modular scheme in the world.
The business model behind building for rent means the ability of modular construction to nearly halve build times is a key advantage, allowing them to start collecting rent more quickly, extra revenue which offsets any higher costs. James Pargeter, senior director of projects at Greystar, says: "For us the key factors are the speed of construction and consistency of quality," adding that when these are taken into account, modular build has now achieved "cost parity" with traditional build. But housebuilders, who only need to build as fast as they can sell, don't get this benefit. "These two factors are really why modular hasn't been taken to date by the for-sale developers, as these have been less important," says Pargeter. "But this is changing."
Expensive
Nevertheless, not everyone is convinced. Last month Greg Hill, regional MD at Hill Group, raised concerns over the quality of modular build, while the high capital cost of modular is also a key factor. A recent report by agency JLL found that using MMC generally cost 12% more than traditional construction. However, modular specifically can be even more expensive. O'Hagan says: "We've met with some of the largest housebuilders, and they're huge organisations with really entrenched supply chains that procure really cheaply. And right now volumetric, in terms of capital outlay, is a real challenge to their business model."
Quite how serious a challenge is shown by Oliver Novakovic, technical director at Barratt, who says construction costs for low-rise housing can be anything up to 80-120% higher outside of London using modular compared to traditional build. He says Barratt has met with around 200 MMC firms, including a number of modular manufacturers, but ended up opting for less radical alternatives, such as timber frame. "All of the modular providers came out as substantially more expensive than current processes. It'd be great if volumetric could work for us, but we have to ensure we build homes at a price our customers are willing to pay, and currently this doesn't fit. We continue to look, but for us this is the big challenge."
In response, proponents of modular say that the price differential, even for for sale housebuilders, will continue to fall as the modular product matures and costs of site labour rise. Greystar's Pargeter says: "The balance will start to favour modular and traditional build will be subject to higher inflation."
'The balance will start to favour modular and traditional build will be subject to higher inflation' James Pargeter, Greystar
But, of course, cost is far from the only hurdle preventing modular take-up, with some insurers and mortgage lenders still harbouring concerns given previous system build failures. Richard Jones, head of residential at consultant Arcadis, says: "Barriers still remain around continuity of demand, the ability to substitute different systems / brands, and a business model which requires significant up-front funding."
Increasingly, one of the biggest issues is procurement and how that ties in with the traditional construction business model. Successful modular projects often require a collaboration between developer, designer and manufacturer from early in the process – as exemplified by the partnership between Greystar, architect HTA Design and Vision Modular. But working like this not only potentially cuts out the traditional main contractor role, but also makes it very hard for clients to take a traditional competitive tender approach. This makes it all but impossible for public sector clients such as councils to demonstrate best value. HTA Design's De'Ath says: "Vertical integration, where the manufacturer is also working as the main contractor is the best way to do this. But it won't work in the public sector because they don't have the ability to pick a supplier and negotiate.
"The public sector has got to work out how to change procurement to allow it to benefit from longer-term relationships."
Cast's Farmer agrees. "The fixation still with lowest-cost tendering acts to fundamentally prevent early engagement with manufacturers," he says, adding that the construction industry also has to change to incorporate modular. "It is too expensive for a tier one contractor to deliver a modular solution, because factory overheads and site contractor overheads duplicate. The industry urgently needs more integrated, fee-based contracts rather than lump sum design and build type approaches."
But speaking as Sekisui House's deal to plough £22m into Urban Splash was being unveiled, the Japanese firm's president Yoshihiro Nakai said using modern methods of construction to build high-quality homes with short build times was one of his company's great strengths: "Our technology and know-how can help resolve pressing social issues in the UK and I want to see us play our part, effective immediately. These operations can also help bring vitality to UK regions and we will work to make the strongest connections with local communities."
So, while proponents of modular are talking up the sector as never before, and more and more firms are taking the financial plunge to invest, questions still remain as to quite how it will vault the numerous hurdles still to be crossed.
Back to Top