08–10 OCTOBER 2019 | NEC | BIRMINGHAM

News
Moasure to Showcase Innovations at UK Construction Week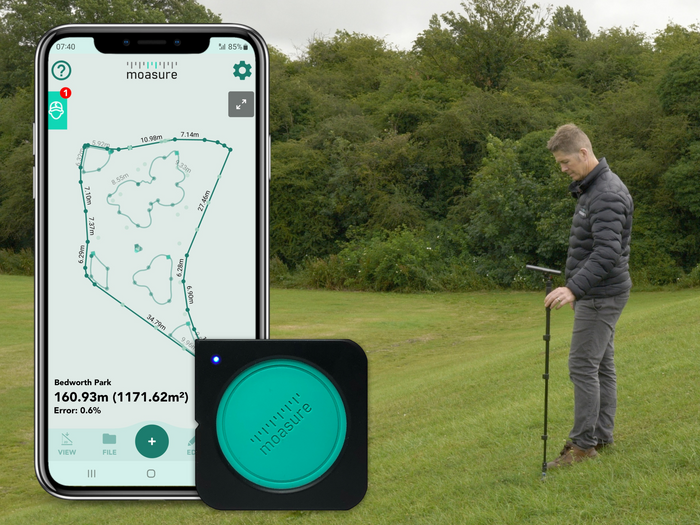 Moasure is changing the way professionals measure complex spaces.
What is UK Construction Week?
UK Construction Week is a multi-day trade exhibition and conference that brings together key stakeholders in the construction industry. The event, expected to draw over 25,000 visitors, will showcase the latest innovations, products, and services across the entire construction supply chain. It provides a valuable opportunity for construction professionals to network, learn about industry trends, and engage with leading companies and experts. Moasure will exhibit alongside hundreds of others.

Live Demonstrations of Moasure ONE
UK Construction Week attendees will have the opportunity to see first-hand the capabilities of the world's first motion-based measuring tool, designed to simplify the measurement of complex outdoor spaces and dramatically boost the efficiency of project workflows.

Moasure ONE doesn't rely on GPS; instead, it leverages motion sensors and a proprietary algorithm to capture measurements accurately and efficiently, eliminating the need for traditional measuring tools. This unique approach also eliminates the need for line-of-sight, making it ideal for complex spaces where the use of traditional tools is either difficult or impossible.
Using Moasure enables construction professionals to eliminate guesswork and confidently capture accurate digital measurements, from linear distances and perimeters to area and slope calculations.

Construction industry professionals can conveniently transfer the measurements they've obtained using the device directly into their preferred CAD or design software or project management systems. This allows measurements to be seamlessly incorporated into CAD software, design programs, or other tools that professionals rely on. This feature not only saves time but also ensures consistency and accuracy throughout the entire project lifecycle, from initial planning to final execution. Completed measurements can be exported to scaled PDF, DXF, CSV, and a variety of image formats. This capability transforms Moasure ONE from a standalone device into an essential component in a landscaper's comprehensive toolkit, enhancing collaboration, accuracy, and efficiency.

Future Lab
Moasure ONE will also be showcased alongside a specially selected line-up of innovative products at this year's Future Lab at UK Construction Week. Featuring the latest innovations in the global construction industry, Future Lab will give visitors an opportunity to discover Moasure ONE's capabilities and learn about its contribution to changing the status quo in the way we build.

Visit Moasure at UK Construction Week
Construction industry professionals are invited to visit Moasure at the UK's largest built environment event, where their team will perform live demonstrations throughout all three days of the event.

To see what Moasure ONE is capable of with your own eyes and to find out why it's fast becoming a must-have tool for construction industry professionals, visit stand D1000 at UK Construction Week, from 3rd to 5th October at Birmingham's NEC (National Exhibition Centre).
Back to Top