08–10 OCTOBER 2019 | NEC | BIRMINGHAM

News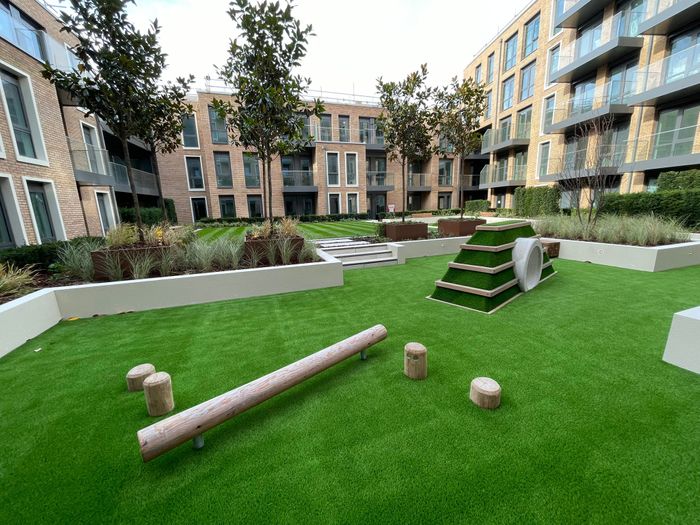 Fire-accredited artificial green roof play area in Hammersmith residential podium landscape
The private landscaped courtyards are at the very heart of the residential complex. The landscape, designed by Randle Siddeley for developer St George and client Berkeley Group, has been expertly constructed by the team at Elite Landscapes as part of the £1.5 million hard and soft landscaping scheme. One podium landscape features the artificial green roof system from EverRoof®.
FIRE AND WIND-TESTED ARTIFICIAL GREEN ROOF SYSTEM
The EverRoof® EVR 3 System was chosen for its uniquely accredited fire and wind tested system, ideal for communal residential roof areas. The soft surface lent itself perfectly to the 75 square metre play area, meeting the building regulations and fire safety specifications. In an area that was originally wet pour rubber, making the change to artificial grass has created not only a more attractive open and recreational space but one that is hard-wearing, drains well and needs little to no maintenance.
PROFESSIONAL COLLABORATION WITH QUALITY AND DURABLE FINISH
Contending with difficult site access, the 3-strong EverRoof install team worked closely with Elite, making best use of a hoist and spider crane for deliveries which were then handballed across the podium to the soft play area. Successfully negotiating the undulating installation over the unusual soft mound terrain, the final results are impressive in professional delivery, quality and durability.
The client was very pleased with the completed play area and was particularly impressed by the installation simplicity of the system, the team's handling of the soft mound area and the resulting clean finish and visual impact of the artificial lawn itself.
Back to Top