08–10 OCTOBER 2019 | NEC | BIRMINGHAM

News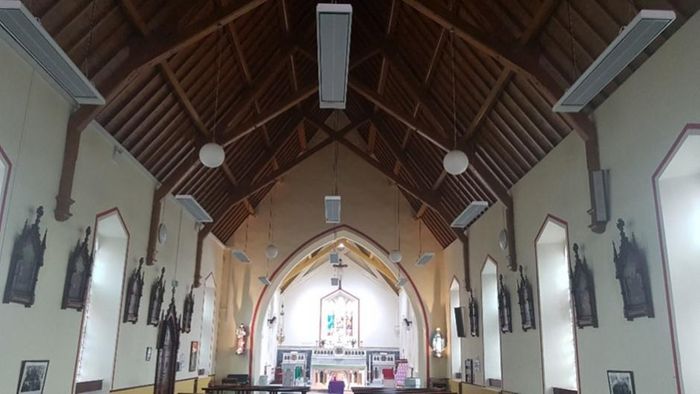 ATC High Temperature Radiant Heaters
Originally built in 1872, Kilmovee Church has been the centre of this rural community. Having not been refurbished since 1962, there was a great need for a heating solution in this drafty building.
Product Criteria:
Energy Efficient Radient Heating for a high ceiling location which is typically draughty.
Aesthetically pleasing and discrete heating solution required as it will be in full view of the public.
Economical heating solution which is easy to control and allows the area to be zoned.
Product Evaluated and Chosen
Following the results of a heating survey, Kenaidan electrical contractors installed 24 ATC Ecosun 2400w High Temperature Radiant Ceiling Heaters.
A Discrete yet appealing floating effect was achieved with grapple wire, Black flex and conduit which were used to suspend the heaters from the church ceiling.
The heaters can be individually or collectively controlled.
Both the contractor and the Customer Confirmed the visual results achieved exceeded their expectations and they are extremely pleased with the heat output and comfort.
Back to Top