08–10 OCTOBER 2019 | NEC | BIRMINGHAM

News
The Future's Bright for Device Smart and Giraffe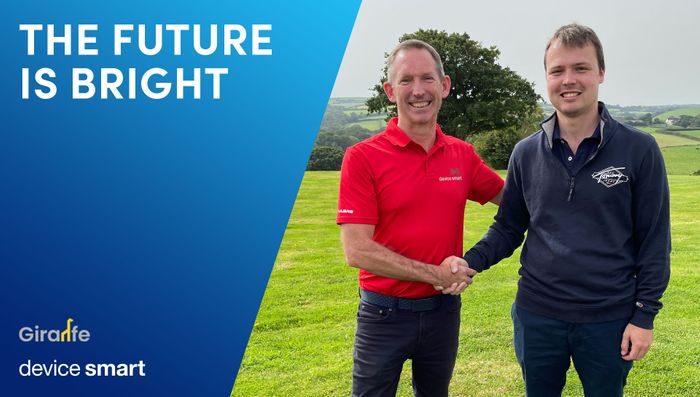 Device Smart and Giraffe Team Up to Bring Smart Solar-Powered Lighting Towers to the world of construction.
Two UK tech focused companies have joined forces to develop a ground-breaking new solar-powered lighting tower for the construction industry.
Device Smart and Giraffe are both leaders in their respective fields. Device Smart which was established in 2020, has developed a range of security lighting deterrents under the Night Sabre brand. Most recently, Device Smart launched solar powered perimeter security lighting, a product that is already used in large construction sites and mining projects on several continents.
Giraffe is a fast-growing software developer who has created their own cloud based operating platform, carried on its Edge Controller product. They have successfully deployed the Edge with customers in the UK and the USA and the feedback is that it has been transformational. With a complementary strength in industrial design, Giraffe has developed rapidly deployable CCTV surveillance products with the Edge at the heart.
The two companies came together to address the need for a sustainable and cost-effective lighting solution for construction sites.
Traditional lighting towers rely on diesel generators, which are typically noisy and polluting, requiring maintenance making them expensive to operate. They also lack the smart operational features that modern mobile technology encourages.
The new solar-powered lighting tower eliminates these problems. Powered by solar panels and integrated batteries, it operates off-grid, producing zero emissions. The compact and easy to transport tower is equipped with a range of security and safety features, including 360° motion detection and 4G connectivity. This makes it ideal for use in remote or hazardous areas.
The solar-powered lighting tower is the first product to come out of a new partnership between Device Smart and Giraffe. The two companies plan to develop a range of other innovative products for the construction industry in the future.
"We are excited to partner with Giraffe to bring this innovative new product to market," said Jason Hill, Managing Director of Device Smart. "Bringing sustainable, solar solutions to market is important, this is a game-changer for the construction industry, and we believe it will help to make construction sites both safer and more sustainable."
"It has been great to get to know Jason and we are proud to be working with Device Smart on this project," said Jake Withecombe, CEO of Giraffe. "We have put a lot of thought into the design of the tower and the outcome is a great example of how two UK tech companies can come together to develop innovative products based on a smart, sustainable platform whilst solving real-world problems."
Back to Top