08–10 OCTOBER 2019 | NEC | BIRMINGHAM

News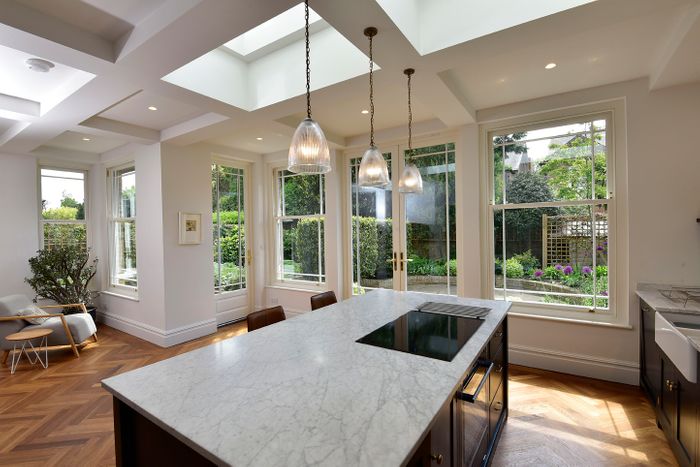 Extension to London home
Renowned Richmond based architects, McDaniel Woolf were brought on board for the extension project by the homeowners. With an extensive portfolio of commercial and residential projects through London, their experience and expertise were an ideal fit for the Wrights and the works they wanted to carry out.
"The goal was to ensure plenty of natural light flowed into the new kitchen, and to have the most suitable products that allowed for this" Fiona McDaniel comments. She goes on to explain "we regularly specify Mumford & Wood for our projects, in fact we prefer to, depending on the client and their respective budget. Their French doors and sash windows were an ideal fit for this extension".
With the aim of sourcing the most appropriate products always in the architects and homeowner's minds, French doors were specified over bi-fold doors to ensure the extension would be in keeping with the Edwardian era styling of the home. The new sash windows allow for plenty of natural light, and open with such ease, this has removed any need for bi-fold doors for this project.
The towering new set of French doors, single entrance door and beautiful new sash windows have been finished in the timeless shade of White and feature a bespoke glazing bar formation for an added level of attractiveness. Hung on traditional cords and weights, the new sash windows are a perfect, traditional fit, suited to the property.
"We have been getting on with the new windows and doors really well since their installation, we especially like how easy and smooth the sash windows move!" Mrs Wright exclaims. The beautiful new products have also met the aspirations of McDaniel Woolf, as Fiona comments "we can always trust the quality of Mumford & Wood and when doing something on this scale, you need to know that the products will work and perform".
Back to Top