08–10 OCTOBER 2019 | NEC | BIRMINGHAM

News
Dwr Cymru Welsh Water Adoptable Pumping Station supplied to development in Llanbedrog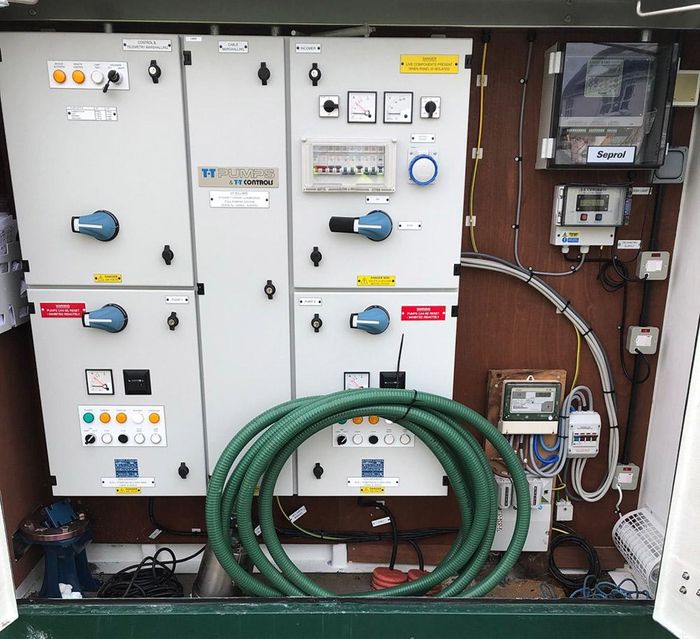 As an approved supplier to all Water Authorities in England, Wales and Scotland, T-T were selected refurbish an existing pumping station, which is now needed to serve a new development of 12 properties. T-T completed a site survey to assess the current pumping station and provide recommendations based on Dwr Cymru Welsh Water Sewers for Adoption 7th edition addendum.
From T-T's assessment, they proposed the use of the existing GRP wet well and valve chamber as this had adequate emergency storage for the application. Two fully submersible single stage pumps were recommended having a cast iron vortex impeller and stainless steel pump shaft. These 1.5kW pumps were recommended due to having ATEX approval and having excellent solid handling capabilities up to 100mm.
Liquid level sensors were selected from our FLO Float Switch range, the FLO101 models also have ATEX approval and are a dependable and cost-effective method of level control. A float switch is a reliable level control option, as when the liquid level rises in the sump, the float switch moves into the on position to communicate to the pumps to run. Once the liquid level resumes to low level, the float switch will move back into the off position and therefore the pumps will stop running. Four FLO101 float switches were installed in the sump to indicate different rising levels in the wet well.
In order to aid adoption of the pumping station, T-T manufactured and supplied a Dwr Cymru Welsh Water compliant control panel, housed in a double door water proof kiosk. The existing plinth was extended to fit the new kiosk, which was complete with heating, lighting and vents as required. Welsh Water require telemetry to be fitted to the equipment to ensure efficient monitoring, upon tender T-T proposed a landline based telemetry solution however, this was altered during a later site visit to a GSM telemetry solution.
T-T also recommended a change to the existing valve arrangement in the valve chamber, the new arrangement included two ductile iron sluice valves with extended spindles and two ductile iron reflux valves with levels, weights and guards all from our T-T Flow range of valves. This arrangement will ensure no sewerage will enter back into the wet well and efficient liquid management in the pipeline.
Finally, as per the request of Welsh Water, a drainage pump with 4m of flexible hose was supplied and stored in the kiosk as a solution to drain out the valve chamber when required.
T-T are delighted to have another successful adoption of a pumping station on time and on budget! T-T supply all equipment from a single source with no need for sub-contracting, this is just one of the reasons to get your adoptable pumping station from T-T. For more information on our adoptable pumping stations, visit https://www.ttpumps.com/pumping-stations/adoptable-pumping-stations
Back to Top