08–10 OCTOBER 2019 | NEC | BIRMINGHAM

News
DURAPOST® WINS CONTRACT FOR MAJOR WELSH DEVELOPMENT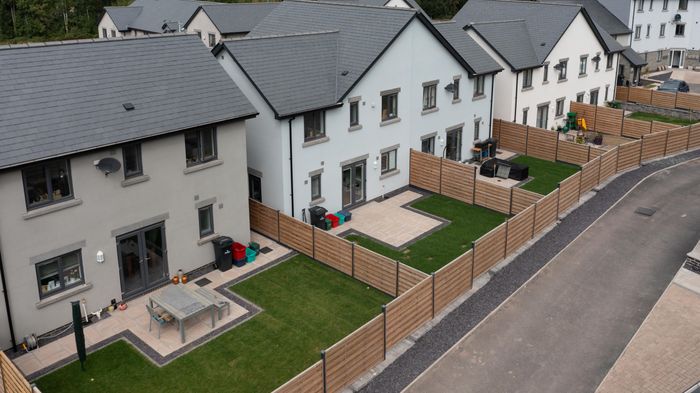 PAR Homes has specified DuraPost® fence posts for its new Beacons Gate development in Brecon, Wales. Although the housebuilder had planned to install concrete fence posts, the team discovered DuraPost®, a solution that would significantly improve speed of installation and maintain its durability.
When PAR Homes began developing the new properties in Brecon, a region known for strong winds and harsh conditions, it was clear that durable fencing solutions would be needed. Whilst traditionally, concrete has been recognised as the most resistant fence post material, it is not aesthetically pleasing. Timber is popular due to its appearance but it is unable to offer a long-term, weatherproof solution.
PAR Homes initially decided to go with concrete. However, early on in the project, it became clear that the concrete posts were slowing down the developers' progress.
"An employee could only carry one post at a time, and the posts themselves required a considerable amount of preparation prior to installation," said Neil Lloyd, Contract Manager at PAR Homes. "We wanted to find a replacement that would allow us to be more efficient, whilst not having to compromise on performance and durability."
As a result, Neil discovered DuraPost® By Birkdale and the PAR Homes team visited Caerfagu Products, their local building supplier. Here, they acquired a small sample of DuraPost® fence posts to trial on one of the properties at Beacons Gate. This was an overwhelming success. Neil continued:
"We could each carry three of the steel fence posts at a time, which drastically improved our productivity, allowing us to install twice the amount of DuraPosts as concrete posts in the same space of time."
Manufactured from galvanised steel, DuraPost® offers a solution that is 80% lighter than concrete but no less resistant to harsh weather. The steel is cut and rolled through a specially made die to create a unique, patented H-section profile. This ensures that it is not only lightweight but also incredibly strong, to deliver maximum durability. DuraPost® has been tested by the Building Research Establishment Ltd (BRE) so it is proven to withstand winds of up to 110 mph.
Having met all of the installation and performance requirements, PAR Homes decided to go forward with the DuraPost® system throughout the Beacons Gate site, and for the front and back gardens of all 119 properties.
"It will be a good-looking site when finished," commented Neil. "With many of the Beacons Gate properties' fascias and windows in Anthracite Grey, the fact we could specify DuraPosts® to match really helps to bring everything together. I would highly recommend the product to other developers."
Back to Top