08–10 OCTOBER 2019 | NEC | BIRMINGHAM

News
DURAPOST® PROVIDES THE ANSWER FOR NEW-BUILD RESIDENTIAL DEVELOPMENT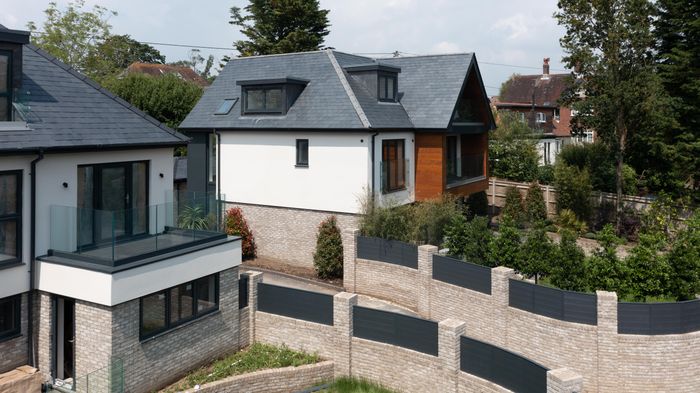 Birkdale has supplied its innovative DuraPost® fence post system for a series of up-market new-build properties located alongside the scenic Hamble River. Specified for its modern style and durability, the powder coated galvanised steel solution also helped to overcome a series of specific onsite challenges due to its light weight.
Located in the village of Hamble-le-Rice, property developer Kevin Smith at K & J Contracts Ltd had recently finished the construction of four new premium residential homes. However, to complete the development, a high-quality fencing solution was required. When visiting his local Strukta Group builders' merchants, Kevin was impressed by contractor Silvervale Ltd's display of DuraPost® fencing products installed on site.
Following a discussion with Silvervale, Kevin specified DuraPost® gravel boards for use between the brick piers in the front gardens while intermediate DuraPost® fence posts were specified in the rear gardens for use with prefabricated fence panels. DuraPost® fence post caps and capping rails were also specified. All products were in RAL 7016 Anthracite Grey to complement the windows, doors and gates of each property. The systems were supplied and installed by Silvervale, which is one of Birkdale's Elite Stockists and trained installers.
However, there were a number of onsite challenges, which Silvervale had to overcome during installation. With the properties located on a narrow residential road, access to the site proved to be an issue. Likewise, the early stages of the project took place in adverse weather conditions, resulting in a potential injury risk from slipping in the excavated mud. Despite this, the light weight of the DuraPosts® allowed the Silvervale team to make fewer trips and easily transport and handle the specified products through to site and safely carry out the installation.
"DuraPost® is an excellent, stylish and versatile fence post solution," commented Murray Moggach, Managing Director at Silvervale. "Not only is it easy to install, but its durable qualities also give you peace of mind that you are installing fence posts that have been designed to last."
The four-property development is now complete and the homes are all sold. Property developer Kevin concluded: "If you are looking for a fencing solution that offers a unique and modern appearance, DuraPost® is ideal. I'm delighted with the final solution and how it perfectly complements the properties' overall design."
Back to Top