08–10 OCTOBER 2019 | NEC | BIRMINGHAM

News
Demolition of the Former Air Traffic Control Tower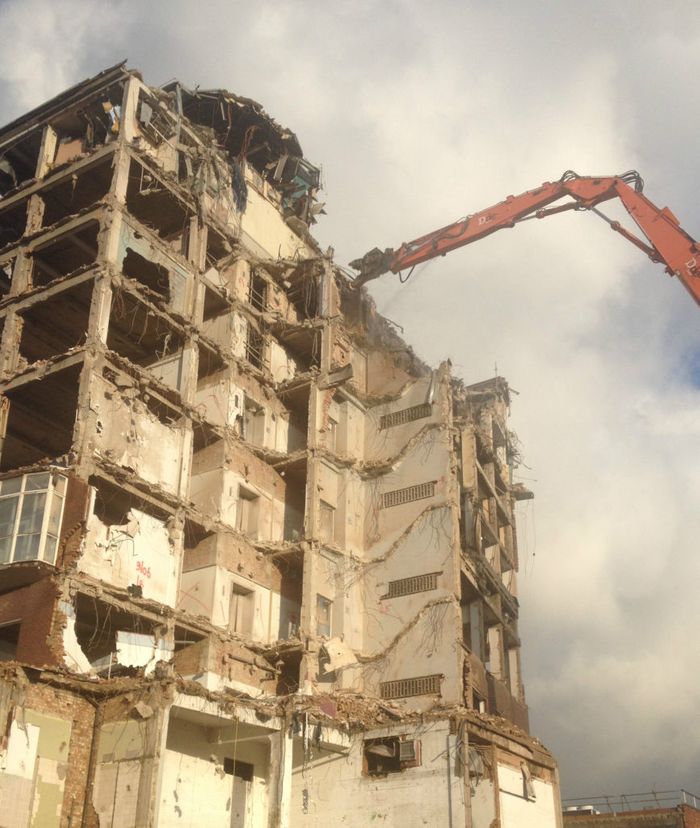 As part of our on-going Heathrow Airport project work, Hughes and Salvidge were awarded the demolition of the Old Control Tower to make way for new roads as part of the Terminal 2 redevelopment.
Hughes and Salvidge are the only demolition contractor to have a permanent on-site presence at both Heathrow and Gatwick Airports and have been a first tier supplier of demolition services to these airport sites for twenty consecutive years.
The Old Control Tower was a 9-storey building at Heathrow Airport. A high-profile London demolition project, the works had many constraints due to the location of the building. Situated within one of the world's busiest airports, adjacent to Heathrow Airport Central Bus Station (the UK's busiest) and with HTHW (high temperature hot water) mains running in ducts under the entire structure including the footprint of the tower.
Our well-practiced airport procedures were used to minimise/eliminate disruption and protect the general public, staff and airport from debris and dust. Prior to structural demolition, adequate approved methods of protection to the remaining HTHW runs were put in place. 600mm of Filcor material was placed on top of the duct covers. On top of this we positioned 18mm staggered plywood joints. Before the excavator was allowed to carry out any demolition or removal of demolition arisings, the position of the duct was marked out to ensure that the excavator did not travel on this area. This was maintained throughout the demolition process. Vibration monitoring was undertaken within the ducts to continually monitor for any movement or impact. All works were completed safely and on time, without damage.
This distinctive building was safely demolished by our highly experienced demolition team who are familiar with the constraints and protocols of working on a live airport site. Our team worked alongside various other contractors throughout the duration of the project. Communication was key to a successfully completed project.
Keith Cannin, Operations Director commented regarding our works at Heathrow Airport, "Hughes and Salvidge has carried out many projects of varying complexity. Hughes and Salvidge completed the demolition of the Old Control Tower, which had many constraints that were critical to Heathrow's existing infrastructure. There are many more projects and in all the works they carried out for us they have acted in an exemplary manner, with safety being at the top of their agenda. They are the best, safest and technically competent demolition contractors that I have worked with in my 30 years experience."
Back to Top