08–10 OCTOBER 2019 | NEC | BIRMINGHAM

News
DART Premium Gold Saw Blades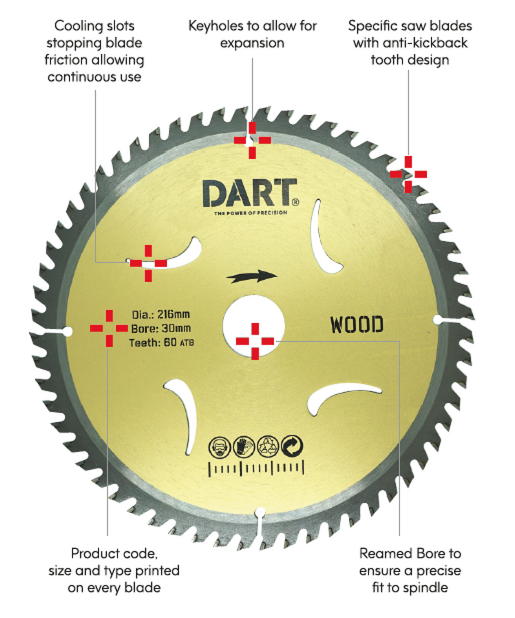 Why choose a DART Premium Gold Saw Blade as your better option?
Did you know? DART Premium Gold Saw Blades boast a zero product return and failure rate!!

So what makes DART Premium Gold Saw Blades to 'go to' option for all tradesmen? All blades feature expansion slots and ventilation ports for cooler operation and reduced vibration. The high-quality hardened steel and the embedded tungsten carbide tip in the teeth enhance the life and cutting power of the blade – meaning they will 'cut like butter' every time!
The reamed bore ensures a precise fit to the spindle allowing you to be safe in the knowledge that the DART Premium Gold Saw blades will give you the better cut.
ATB or TCG – DART have it covered. Alternate Top Bevel (ATB) tooth configuration gives a professional cut for most wood applications, including softwood, hardwood, particle board, MDF, hardboard and plywood. The tooth angle (5% -30%) differs slightly on some blades to optimise the cut quality, for example a 160Dmm x 20Bmm x 48z ATB blade features an ATB+5% tooth configuration making it the better choice for plunge saws. ATB Negative Tooth is suitable for use on mitre saws and chop saws, minimising the snatching and pick up of material.
Triple Chip Grind (TCG) tooth configuration is suitable for materials such as aluminium, plastic, wood laminates, and other man-made materials. It leaves a chip-free finish due to its bevelled corner tooth which cuts first followed by a flat top tooth.
This is the real nail-bitter! All ATB blades up to 40 teeth feature anti-kickback teeth making them suitable for cutting through wood with nails!
Have do I know if I have the right blade? Knowing which blade you need for the job is always a problem – how do you know if it is going to cut your material, how do you know what sort of cut it is going to leave? How will you remember if it's a TCG or an ATB blade you need?
Don't worry, DART have it covered on their saw blades and packaging.
On all blades it tells you the diameter, bore, no. of teeth and tooth configuration, plus what it cuts. On the packaging in the top left-hand corner it tells you what the blade finish is from coarse finish through to extra fine finish. To crown it all off, on the back of every pack is a detailed blade application chart, which we leave you in no doubt about the right blade for the job.
Machine compatibility. As well as a quality product you get the added bonus of being able to choose from a wide range of sizes. DART have done the hard part to make sure that their blades are perfected matched to your machine.
DART Blades are designed and manufactured to give you the better choice for your saw.
Back to Top