08–10 OCTOBER 2019 | NEC | BIRMINGHAM

News
Cross Flow - Bilco UK extends its offering throughout Ireland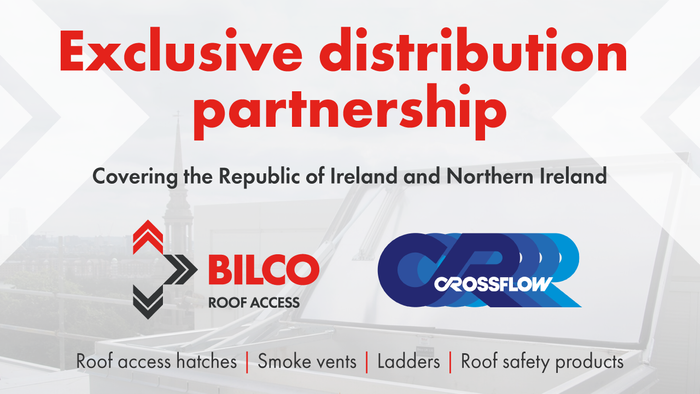 Suitable for both residential and commercial developments, Bilco UK's suite of roof safety and access solutions are expertly engineered to mitigate falls from height and support construction professionals in achieving the highest standards of compliance with relevant building regulations.
Speaking of the new partnership, Marcus Parnham, Commercial Director at Bilco UK, said:
"Being able to sign an exclusive distribution agreement with Crossflow is a major step forward for Bilco UK as part of our dedicated growth strategy throughout Ireland.
"As one of the country's leading providers of construction products, we are looking forward to growing and succeeding together."
The range includes a complete offering of ladders including fixed, companionway and retractable, roof access hatches with supplementary railing systems and Bilco UK's unique LADDER UP® safety post, in addition to smoke ventilation systems.
Crossflow's Managing Director, Barry Corcoran, said: "With over 45 years of experience providing professionals throughout Ireland, with the highest standards of product quality and expertise, we are proud to be partnering with a manufacturer such as Bilco UK who aligns with our commitment to consistent performance.
"We are looking forward to embarking on this partnership and achieving a successful future together as we provide Ireland's contractors with safe and secure products that meet the most.
Back to Top