08–10 OCTOBER 2019 | NEC | BIRMINGHAM

News
Continued Collaborative channel drainage supply partnership between EBP Building Products & ULMA Architectural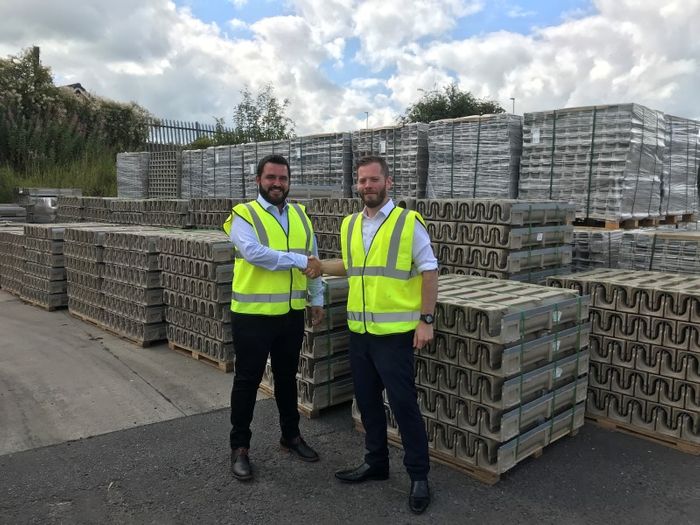 EBP provide insight into their supply partnership with ULMA
Surface Water…..Prevention is Better than the Cure!
Channel drainage is an unsung hero of the construction industry but for those in the know it is recognised as a critical component in the design and construction of hard standings & catchment areas as part of a surface water management strategy, preventing flooding, containing contaminants and preventing (often costly) damage caused by surface water run-off. We've all had to tip-toe through that supermarket car park with huge puddles caused by bad drainage at some point, right? But we're less likely to have seen first-hand the myriad of other problems that poorly planned surface water management may lead to.
When it comes to surface water drainage, having the technical expertise and a wide range of channel drainage options ready to dispatch throughout the UK & Ireland is integral to providing a reliable turnkey solution that the construction industry can call upon & trust for their project requirements.
Whether you're a merchant, groundworker, landscaper or builder you need a reliable supplier who's going to deliver what you need, when you need it & at a competitive price!… which is where EBP Building Products Ltd come in.
Genuinely Competitive Channel Drainage Systems!
Just over four years ago, EBP Building Products Ltd formalised a distribution deal with ULMA Architectural that gave rise to a collaborative supply partnership whose main aim was to provide genuinely competitive solutions to age-old surface water drainage problems within the UK construction sector.
Already part of a well-established market in the UK & Ireland for supplying channel drainage systems, EBP Building Products were approached by ULMA who were looking to increase their presence within the UK and provide a competitive alternative to the already well-established market leaders. It became clear that both EBP & ULMA were well equipped to combine their experience & knowledge of channel drainage and so during the past four years, through working collaboratively, both companies have successfully combined to supply genuinely competitive drainage solutions to general builders' merchants and specialist civils merchants who in turn supply civil engineering contractors, ground workers, landscapers & builders with their construction project requirements.
Four years later during the summer of 2022, EBP & ULMA have formally renewed their distribution deal to further enable continuity of supply to merchants & the contracting industry as a whole, who will continue to benefit from having a competitively priced supplier of channel drainage systems that can compete with the market leaders, with excellent technical support and a wide range of channel drainage systems available that can be dispatched same day.
Commenting on the EBP & ULMA supply partnership, EBP's Commercial Director, Sam Brooke, had this to say; "It's been four extremely busy years since we initially penned a deal with ULMA, half of that time included a pandemic and a move to new custom procedures arising from Brexit, huge impact events which have epitomised a challenging period for supply-chains globally. It's during times like these that supply-chain robustness is tested to its limits. So, aligning priorities with reputable like-minded partners and maintaining strong communications with the key contacts of those partners is critical to success! I'm pleased to say that with both our companies working in this way we are best positioned to continue to offer our customers a high level of technical sales support as well as a wide range of some of the most competitively priced channel drainage systems available in the UK!"
One of the Biggest & Most Diverse Ranges of Channel Drainage in The UK!
Many customers hold stock of our drainage channels but not all have the space to keep the full range of systems and options in branch (a range that includes literally thousands of permutations of channel base units, gratings, sumps & accessories). Not having the right channel drainage stock in branch can mean you missing out on securing orders for certain projects, however this doesn't have to be the case, just add EBP Building Products to your supply-chain and you will effectively have a channel drainage specialist with stock ready to dispatch (just treat us as an extension of your team & yard!).
By treating EBP as an extension of your branch you can have access to a wide range of stock, available for quick delivery direct to site. You can win that sale and put yourself in the driving seat to enjoy repeat business time and time again without having to be an expert in channel drainage, just leave that to us. Think Channel Drainage….think EBP!
Back to Top