08–10 OCTOBER 2019 | NEC | BIRMINGHAM

News
Clients with home renovations? Then it's the ideal time to install your Rointe heating system.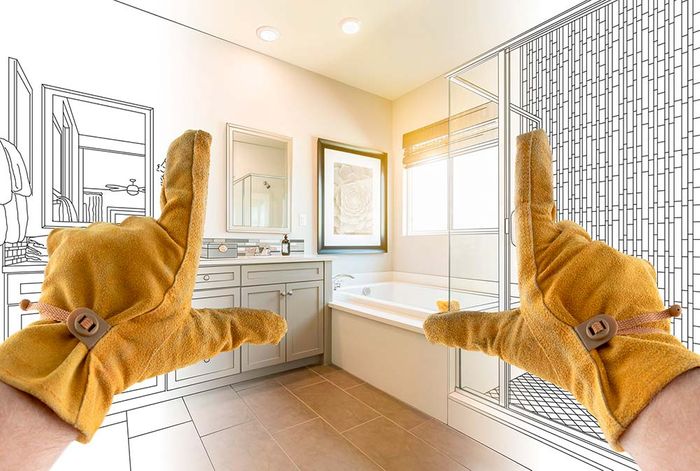 If your clients are those who take advantage quieter times to renovate their home or plan to do so in the future, this latest post helps you make decisions regarding suitable heating systems.
During the summer, heating gets a break and so do wallets, leaving more free cash to spend on upgrades. But come autumn, heaters will need to be ready to do their thing again, so they must be up to the task. The heat of the summer makes us forget about winter heating costs and systems that may be well past their sell-by date. By investigating all different options and upgrades now it gives you and your clients time to find the most energy-efficient heating system and install it before the chill of winter begins to bite. In the unlikely event that a problem is found, it can be repaired before the heating systems is needed 100%.
Heating engineers and installers might have more free time during the summer months, as they're not constantly on call to broken boilers and heaters. So there is an opportunity to get a better product and installation deal by opting to renovate heating systems during this period.
Considerations when replacing or upgrading heating...
When choosing heaters for homes, there are several points to take into account:
The first thing is the location of the house: Where is it located? What sort of climate is it in? What is the orientation? You'll also need to take into account the age of the property and the level of insulation within. It's also important to consider whether it's a regular or occasional residence and the number of people who live there.
Next, you'll need to evaluate several factors: the complexity of the installation, the product's environmental friendliness, energy efficiency, short and long term consumption costs, and, most importantly, the comfort it will bring to your home. You'll also need to take into account stairs and furniture. For example, in rooms with stairs and corridors, there is a higher risk of heat loss, so you might need to consider a more energy-efficient or bigger output heater. For rooms with more furniture and a higher than usual temperature, like kitchens, you probably can reduce the size of the heater.
Home renovations: which heating system is right?
Let's take look at the most common electric heating systems for the home.
1. Water Heaters: There is a wide range of water heating systems including unvented with storage capacity cylinders, compact under/over sink heaters, instant heaters and heat pumps. Rointe electric water heaters for domestic hot water are manufactured with the highest quality components. The insulation of the water heater – key to maintaining the temperature of the water inside – together with the electronics designed and manufactured in-house with the latest advances in safety and consumption measurement, make our water heaters one of the most efficient on the market.
How do I choose the capacity of my electric water heater?
Choosing the right tank size or water heating capacity depends on several factors like the number of users in the household, types of hot water use and the type of property the water heating system is to be installed in.
Due to the large number of hot water cylinders available on the market, choosing the right hot water tank capacity can be daunting. However, you can use our simple guide to Rointe electric water heaters to choose the correct cylinder volume:
| USERS | USE | CAPACITY NEEDED | ROINTE PRODUCT |
| --- | --- | --- | --- |
| 1 | Sink/Shower | 4 - 15 litres | Venice Compact/Capri Instant |
| 2 | Sink/Shower | 50 - 100 litres | Rome WiFi/Siena/Geneva |
| 3 | Sink/Shower/Bath | 150 - 200 litres | Rome WiFi/Siena/Dalis Heat Pump |
| 4 | Sink/Shower/Bath | 150 - 200 litres | Rome WiFi/Siena/Dalis Heat Pump |
| 5 | Multiple Sinks/Showers/Baths | 260 litres | Dalis Heat Pump |
| 6 | Multiple Sinks/Showers/Baths | 260 litres | Dalis Heat Pump |
2. Underfloor heating: Rointe's electric underfloor heating is an invisible solution, saving space and energy, for heating the floor of rooms. Warmth is mostly dissipated by vertical radiation from the floor, whilst the remainder is released into the room through natural convection when the air comes into contact with the warm floor.
There is a particular demand for this type of heating system throughout Europe. They can be easily and quickly installed and won't raise floor levels. These advanced systems can be used as a primary heat source to minimise your heating costs, but also work well when combined with other products like electric radiators.
The fact that they do not require a boiler, and the possibility of being able to control the temperature thanks to the CT.2 and ST.2 thermostats, which are specifically designed for these systems, make them a very attractive solution.
Simple installation: This type of system is very easy to install when the electric option is chosen. The electric underfloor heating is installed directly under the floor after a technical study has been carried out to determine the type of underfloor heating and the power required for installation.
Where to install these systems? These types of electric systems can be easily installed on any type of floor. We have the Milos series for ceramic floors and is installed by means of a heating mat and mesh just below the floor.
In addition, Rointe also has the Erko foil series, the ideal choice for more delicate floors such as carpet, wood, laminate, vinyl and lino, available as an aluminium heating mat.
3. Electric radiators: Low consumption electric radiators, such as Rointe's, are designed for all types of environments and to cover any need, however specific it may be.
Rointe electric radiators are designed to be hung on the wall. But be careful if moving heaters from one room to another, as they should be specifically sized for a particular room due to thermal conditions from one room to another varying.
Aluminium: the best material. Aluminium radiators make the best electric heaters because they heat quickly, have great thermal conductivity and high corrosion resistance. Plus they are lightweight and an easy to install heating product. In addition, aluminium is more cost-effective than other metals or materials and can be easily recycled. All of which is why we've chosen to make our electric radiators from this fantastic, high-quality material.
4. Electric towel rails: In a room such as bathrooms, where constantly high temperatures aren't needed, electric towel rails are a fantastic idea. They're efficient at heating the smaller spaces, great at warming towels and are stylish too. They don't require a connection to a water pipe, so it will be the easiest option to install.
Electric towel rails heat a room by natural convection. The towel rail consists of a high heat transfer thermal fluid or oil, which is heated by an electric heating element inside the body. The oil is a heat reservoir, which is not burned. As the oil heats up it circulates by convection, which in turn heats the metal body. The warm metal surface then heats the air in the room, which rises as it warms. This allows cool air to flow into its place, creating a convection current.
Electrically heated towel rails can sometimes replace a radiator as they function similarly but come in a reduced size that fits better with bathroom elements. Oil-filled electric towel heaters are a popular out-of-the-box solution as they do not require a water system, making them ideal for bathrooms and toilets.
Rointe, be smart with green heating.
Back to Top