08–10 OCTOBER 2019 | NEC | BIRMINGHAM

News
BBA scientist champions on-site beekeeping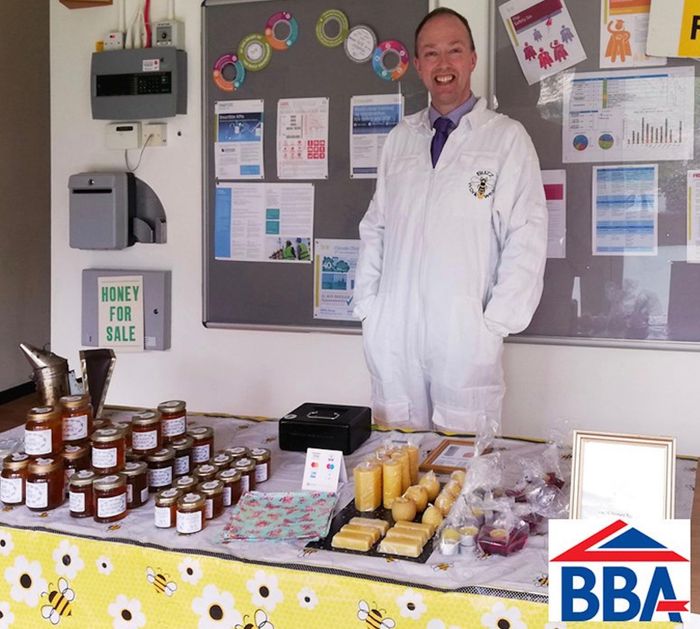 BBA Fenestration Sector Manager Luke Adams contributes to a busy department testing and certificating doors and windows, but few of his clients realise that his working day includes responsibility for some 300,000 heads - all of which have buzzy tails with stings attached.
For Luke, an avid apiarist, has established several colonies of honey bees on-site at the BBA, producing approximately 400 jars of honey each year from six hives. Lucky colleagues at the BBA, and staff on-site at the BRE, are grateful customers and have the chance to help care for the hives and learn about beekeeping.
"The idea for the hives came from the BRE, which operates a Staff Champions scheme encouraging its employees to take up interesting hobbies," said Luke. "I was asked by BRE if I would be prepared to show others how beekeeping works and it has been really successful. I've trained and mentored interested BRE employees and we meet weekly to carry out hive maintenance and check the bees."
The hives have now been established for some eight years. Each contains around 50,000 bees and produces around 70 jars of honey every year. This year Luke started selling BRE branded honey from a stall in the BRE canteen and he also sells it to colleagues at the BBA, one of whom – Operations Manager - Test Patrick Maxwell, has learnt the art of apiculture from Luke and established his own hives.
"It has been great to pass on my passion for beekeeping to other people," added Luke. "My interest stems from the science behind how the colony works, I don't do it for the honey. A colony takes around a year to establish and you then need to continually check that the queen is laying eggs, that the bees have sufficient food stores and are healthy and thriving. We generally harvest the honey in spring, summer and autumn. Each season produces a slightly different coloured and tasting honey, influenced by the changing varieties of flowers available to the bees, and their abundance."
Luke, who has worked at the BBA for more than 30 years in a variety of roles, also keeps six hives at a site near Shenley. Three years ago his honey scooped top prize from the St Albans and District Beekeepers Association.
Back to Top