08–10 OCTOBER 2019 | NEC | BIRMINGHAM

News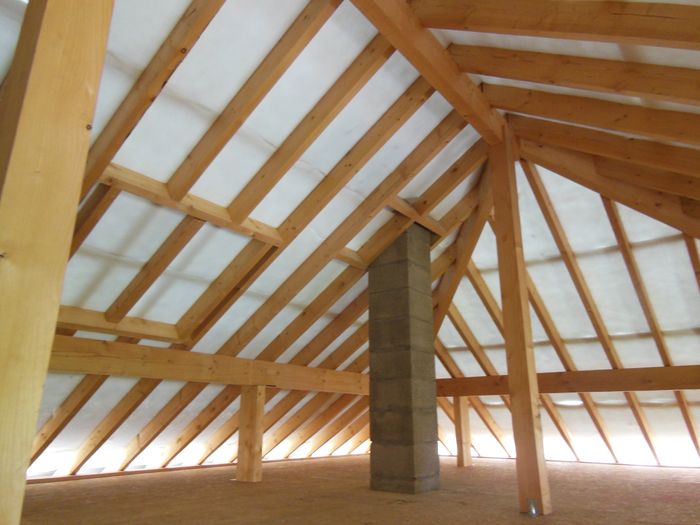 Cost saving top-up insulation from Novia Ltd that helps reduce plastic waste
One of the main challenges facing building envelope designers in today's market is to bring together an ever evolving set of construction products and building materials that will continually improve achieved U-values, and yet keep within strict budget guidelines. Demands from all parts of the market are constantly forcing U-values ever lower and lower, requiring architects to consider new or alternative and innovative ways to meet design criteria. However meeting a particular price-point is still vitally important for many projects to remain viable. One way to cost-effectively improve the energy performance of a building is to increase the R-value of one of the existing components by adding some form of insulation to the component itself, thereby providing additional thermal benefits over and above that normally achievable from a particular building element.
Aluthermo RoofReflex is a CE approved EN 13859 breathable underlay which has been combined with an insulation layer to provide an additional thermal performance within insulated roof and wall designs of up to 1.47 m2.K/W. The additional R- value benefits achieved will vary depending upon the particular application in which it is used. RoofReflex is installed within the building envelope on the cold side of the existing insulation system, as would be the case for a normal breathable underlay. The product still performs the core requirement of all external underlays, which is to provide a secondary protection barrier against a range unwanted external environmental factors. However due to the unique way in which RoofReflex has been combined with an insulation material, the product also provides thermal benefits not available when using traditional underlay products.
Aluthermo RoofReflex is manufactured from Novia Ltd's high specification Reflex membrane, which is their CE approved low emissivity breathable membrane for roofs and walls. Novia Reflex is laminated to a 37mm thick polyester insulation layer, which is produced from recycled plastic bottles, to make the final Aluthermo RoofReflex product. RoofReflex is manufactured by their insulation partner Aluthermo SA, who are based in Belgium. The product provides a core thermal resistance of 1.00 m2.K/W, which is ideal for topping up other insulation systems. RoofReflex also provides additional thermal resistance benefits of up to 0.47 m2.K/W, by virtue of its low-emissivity surface. The same low emissivity surface will also keep structures cooler in the summer months plus the way that that the product is installed minimises thermal bridging effects. The final thermal benefit is derived by designing the membrane to be fully air-tight (air-impermeable), but still highly vapour-open, thereby providing an external air-leakage barrier. By keeping warm air in, and yet still allowing unwanted moisture to ventilate from the interstitial layer, RoofReflex maximises the buildings thermal performance. An air-tight air-leakage seal is further maintained by providing integral sealing tapes, for use at the overlaps.
Aluthermo RoofReflex is a highly cost effective add-on insulation product. For example when installed in combination with other mineral wool insulation products, there are potential cost savings of 40% to 50% available, when compared to equivalent PIR/PUR installations. RoofReflex even significantly improves the overall acoustic performance of the build, as the recycled polyester insulation is a great sound attenuation material.
The membrane has both LABC and EPC certification, and comes with a fully underwritten 10 year warranty by Allianz Insurance, as well as mandatory CE compliance to EN 13859-1 and EN 13859-2, which provides specifiers with all the confidence that they might need. As part of maintaining a high specification solution the membrane also conforms to EN 1928 W1 water resistance. The product is supplied in 1.4m x 10m rolls, and is available from stock, along with any installation accessory products that may be required. Architects and designers are able to easily specify our polythene VCLs via NBS Chorus & Source software for future projects. CE approved to EN-13859
RoofReflex® edges can be left unsealed. The membrane is LABC and EPC approved, and does not need to be reversed in unventilated cavity applications. RoofReflex® is also orientated to provide a cooling effect in summer, lowering air-conditioning costs, and keeping the building cooler.
Back to Top