08–10 OCTOBER 2019 | NEC | BIRMINGHAM

News
AGo Architects builds skinny house in Indonesia on a 3.5-metre plot | Construction Buzz #226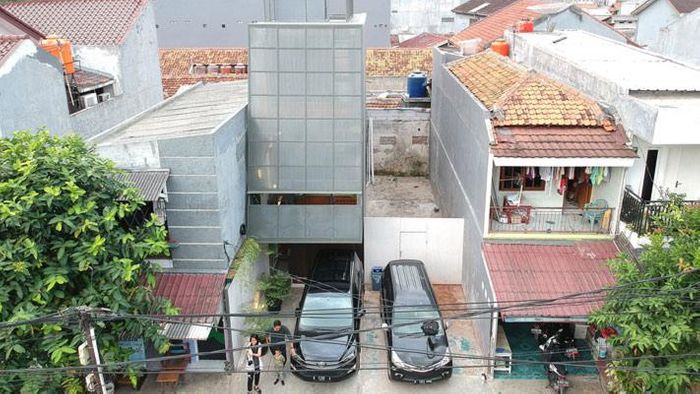 A perforated metal facade covers the front of 3,500 Millimetre House, a wedge-shaped skinny house built on a 3.5-metre-wide site in Indonesia by AGo Architects.
Called 3,500 Millimetre House on account of the narrow plot size, AGo Architects designed the family house in South Jakarta to be as compact as possible.
A mesh of perforated steel and polycarbonate shields the west-facing front of the house, which is covered in full-height glazing.
This outer layer forms the wedge shape and acts as a second skin to provide privacy and sun shading.
With little opportunity for light along the home's long edges, a slim cut-out in the facade runs along the narrow front of the building.
This provides a balcony-style view from the first floor terrace that sits between the mesh and the glazing.
"The programme was the result of a discussion questioning what the clients really need rather than what they want," explained the architecture practice.
"The focus was to create a compact living space with rich experiences, creating a space with minimal walls, various floor levels, and connecting each floor with various types of stair-furniture-facade integration."
The home is split vertically into different functions, with a master bedroom on the ground floor.
A living, kitchen and dining space is on the first floor, the second floor has a child's bedroom and study space, and a roof terrace is at the top of the house.
Each room's function is denoted by large pieces of furniture that abut or join the walls. Many of these pieces serve dual purposes, such as a staircase that is also a bookshelf and seating that conceals storage.
Warm-coloured wood used for these built-in elements contrasts with the cooler tones of the polished concrete walls and floors and the dark metal mesh outer layer.
AGo Architecture, formerly APlusA, is an Indonesian practice based in Jakarta and founded in 2018.
Narrow plots of land require architects to be creative when it comes to economising with space. Oliver du Puy Architects built a house on a 4.2-metre-wide plot in Melbourne, Australia, which features a meditation courtyard in the centre.
In the Netherlands, Ana Rocha Architecture used sliding doors and built-in furniture for a house that has a footprint of just 16 square metres.
Back to Top