08–10 OCTOBER 2019 | NEC | BIRMINGHAM

News
A brave new future for 21st century Birmingham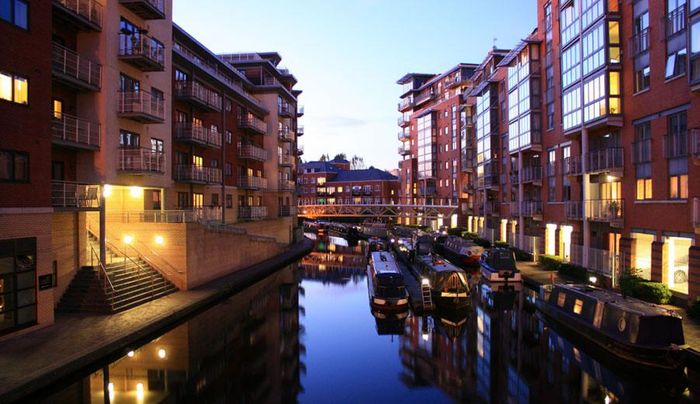 Matt Suddaby, Communications Consultant at Birmingham PR agency, spottydog, shares insight from UK Construction Week's recent talk, Changing the Skyline of Birmingham, to highlight how huge investment in infrastructure, sustainability, new housing and connectivity will change the face of the region forever.
During my time at UK Construction Week, one quote stood out more than any other. Rob Groves, regional director at Argent and one of the key brains behind the city's game-changing Paradise development turned to the audience and said: People used to leave Birmingham as soon as they could after work in an evening. Now they're doing the opposite, they're coming into the city instead."
As a central Birmingham PR agency, we've seen this change occur in greater detail than most. Directly opposite our Brum pad sits the enormous, glistening New Street station which was reopened to great fanfare in 2015. Around it, a rabbit warren of streets are lined in scaffolding as businesses hastily prepare to open up shop in the heart of the Second City.
Birmingham is an exciting place to be right now, and the talk at this year's Construction Week suggested that the development we have seen so far is just the start. Huge projects including the regeneration of the wholesale markets site and the aforementioned Paradise scheme give a tantalising glimpse of what's to come. Inevitably the talk is starting to turn to how businesses can use this progress and development to ensure they thrive.
The leisure sector alone has seen increasing levels of competition over the last few years. The city is famously home to huge F&B brands like Mitchells & Butlers, but at a grassroots level increasing numbers of smaller businesses are emerging and starting to make their mark too battle-hardened Brummies will eagerly recall many a night spent at the independent foodie hotspots popping up across the city.
This competition is being increased by businesses making their first steps outside the capital with everything from German sausage eateries to ping pong bars choosing to make Birmingham home. Groves himself suggested that a number of London-based food and beverage businesses are thinking about making the city, and Paradise specifically, the location for their first venture outside the M25.
In case that failed to get the proverbial tastebuds tingling, the talk at Construction Week quickly moved on to infrastructure changes, and how these will support city businesses over the years to come.
HS2 has, for a number of years now, been highlighted as the big change that will alter life for the people who live and work in the city. Kate Hall, design director at HS2, took to the stage to unveil the initial renders of the new station at Curzon Street which helped to make this project seem a little more tangible, and a whole lot more real.
Then the panel delved further into the recent news that Birmingham is going to be a testbed for ultrafast 5G mobile internet. While this might seem like a major win for residents looking to stream their favourite Netflix series, city bosses have other priorities in mind.
This next generation connectivity will in fact help to support the roll out of smart tech in the city, including futuristic innovations like driverless cars. These autonomous pods might have already been spotted curiously scuttling along Broad Street, but to work on a larger scale they will need uninterrupted access to high-speed internet. 5G connectivity will provide this.
UK Construction Week offered an exciting insight into how this modern, vibrant city will continue to develop over the next 10 years. The question for the city's businesses is, how are you going to make the most of it?
MATT WEBAn English literature and journalism graduate, Matt joined national news agency the Press Association after university where he worked on a range of national newspapers. Now a member of the spottypack in Birmingham, Matt uses those skills to develop engaging and creative campaigns to generate client conversations.
Back to Top