08–10 OCTOBER 2019 | NEC | BIRMINGHAM

Exhibitors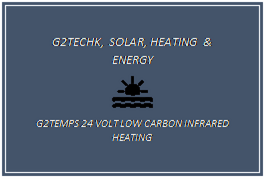 G2Techk, Solar, Heating & Energy- UK & International introduces our 24 Volt Low Carbon Infrared heating & heat paint system for turning your walls, floors & ceilings into radiators to heat rooms in buildings, home, businesses commercial & industrial sites.
This removes the need for heating pipework, additional electrical circuits and has many health benefits.
See website for solar & batterys & our sister operation Gallery Kitchen Design, Furniture, Interiors & Exteriors for indoor & outdoor kitchens, bedrooms, bathrooms & interior design for residential and commercial.
Carports & E V charging, canopys & patios all with solar/wind power integration is optional.
Company Name
G2TECHK SOLAR, HEATING & ENERGY & THE GALLERY
Address
The Gallery
115 Haley Hill
Halifax
West Yorkshire
HX36EE
United Kingdom