08–10 OCTOBER 2019 | NEC | BIRMINGHAM

Exhibitors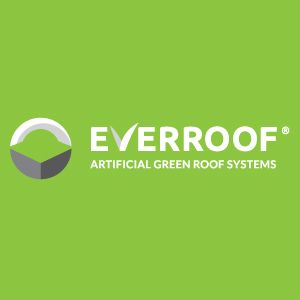 EverRoof® is UK's only classified artificial green roof system, ensuring artificial grass roofs are fire-tested and anchored correctly, resisting wind speeds exceeding 100 mph. These systems provide water attenuation and added insulation, saving energy and extending roof life.
Latest EverRoof® installations: Cashel Palace Hotel, Tipperary (six roofscapes); Sovereign Court, West London (luxury podium landscape); Lidl, Epsom (residential podium green roof)
Artificial grass pioneers for over 35 years, independent, family-run Evergreens UK Group of which EverRoof® is part is UK's largest supplier of artificial grass for private and commercial landscapes, providing accredited installation training at their National Training Academy in Rutland.
Company Name
EverRoof® part of Evergreens UK Group
Address
Evergreens UK Limited
Market Overton Industrial Estate
Ironstone Lane
Oakham
Rutland
LE15 7TP
United Kingdom
Three-part systems for any flat roof area that requires vertical and horizontal drainage and runs to falls of roof.  Fire and wind classifications (A-C)

Suitable for inverted roofs, plus all flat roofs, blue roofs and roofs where a raised level is required, e.g. door transitions and secondary transitions. Fire and wind classifications (A-C)
Working with construction firm Adston, the new Lidl store in Epsom has a resplendent EverRoof® artificial green roof. The roof garden sits in front of the 30 new apartments, ready for its occupants.

Atop the six manor buildings of the Hotel and alongside the three-acre gardens and spa, the EverRoof team set to installing over 1000 square metres of their EVR1 artificial green roof system.